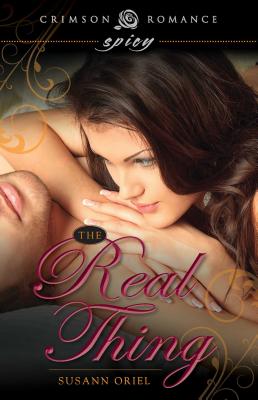 The Real Thing
Paperback

* Individual store prices may vary.
Description
Top art expert Gemma Gilmore can easily spot a fake from across a crowded gallery. So she wonders why the smoking-hot man standing alone in the far corner of the auction room isn't bidding. She and her killer five-inch pumps vow to find out.
Mac Buchanan is on an undercover assignment that leaves no room for small talk and soft emotions. When one of the expensive paintings Gemma authenticated turns out to be a fake, he's the prime investigator, and he's determined not to let her breathtaking sex appeal whitewash a serious crime.
But even facing off over a $50 million art fraud case isn't enough to contain their blazing sexual chemistry. Time and again, passion draws them together, but they're driven apart by an ever-increasing web of lies, set-ups, and betrayals.
When the truth behind the fraud is revealed, will their relationship shatter or will they discover their intense connection is the real thing?
Sensuality Level: Spicy
Crimson Books, 9781440585548, 198pp.
Publication Date: September 29, 2014