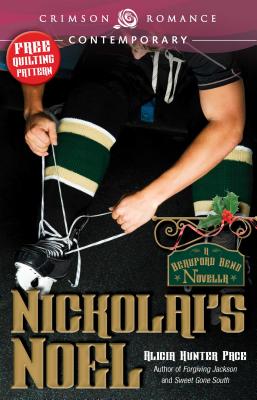 Nickolai's Noel (Beauford Bend #2) (Paperback)
Crimson Romance, 9781440585609, 158pp.
Publication Date: December 17, 2014
* Individual store prices may vary.
Description
Born an orphan in Russia, Nashville Sound center Nickolai Glazov never knew the warmth of a big family. Luckily, at age six, his talent for hockey was discovered. Now, with a multitude of championship titles, a berth on the 2014 Russian Olympic team, and plenty of puck bunnies to warm his bed on cold nights, he's not wasting his energy crying over his lack of roots. Even if he wouldn't mind a special someone to come home to . . .

Artisan quilt maker Noel Verden, on the other hand, has so many roots they're threatening to strangle her. Her family depends on Noel for everything, from talking them through using the television remote to deciphering the telephone bill—all from 200 miles away. She loves them, but wishes they were more self-sufficient and would stop trying to force her to close her quilt shop in Beauford, Tennessee, to move back home to Kentucky. If only she had the strength and power to stand up to her family . . .

A chance meeting and a snowy ice storm bring this unlikely pair together on the most enchanting day of the year, and a special connection flares between them. But when the ice melts, will the magic disappear too?

Sensuality Level: Sensual
About the Author
USA TODAY bestselling author Alicia Hunter Pace is the writing team of Stephanie Jones and Jean Hovey. Stephanie lives in Jasper, Alabama, where she teaches sixth grade. She is a native Alabamian who likes football, Civil War history, and people who follow the rules. She is happy to provide a list of said rules to anyone who needs them. Jean, a former public librarian, lives in Decatur, Alabama, with her husband in a hundred-year-old house that always wants something from her. She likes to cook but has discovered the joy of Mrs. Paul's fish fillets since becoming a writer. Find Alicia Hunter Pace at AliciaHunterPace.com, on Facebook, and on Twitter @AliciaHPace.