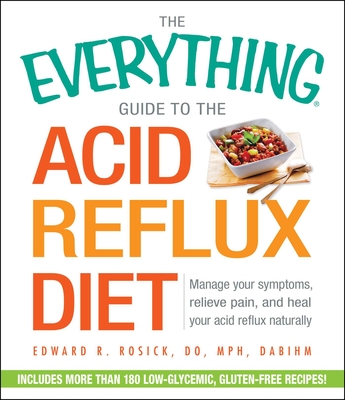 The Everything Guide to the Acid Reflux Diet (Paperback)
Manage Your Symptoms, Relieve Pain, and Heal Your Acid Reflux Naturally (Everything®)
Everything, 9781440586262, 304pp.
Publication Date: May 8, 2015
* Individual store prices may vary.
Description
A unique food plan to combat your acid reflux!
If you're one of the millions of Americans who suffers from acid reflux, there is hope - in the form of a new low-carbohydrate, low-glycemic diet that can help quiet the painful symptoms of acid reflux. A low-carbohydrate, whole-food diet can reduce inflammation and allow your entire digestive system to heal. Inside, you'll find more than 180 recipes for delicious grain-free, low-glycemic, all-natural meals, including:
Spinach and Gorgonzola Egg-White Omelet
Garlic and Cheddar Biscuits
Pear and Ginger Smoothie
Grilled Pork and Mango Salsa Sandwich
Thai Chicken with Peanut Dipping Sauce
Rosemary Pork Chops with Apples and Raisins
Asian Sesame-Crusted Scallops
Beef Bourguignon
Bean and Vegetable Chili
Smooth Cauliflower Soup with Coriander
Dark Chocolate, Walnut, and Hazelnut Torte
Nut-Crusted Key Lime Pie
With
The Everything Guide to the Acid Reflux Diet
, you'll learn that living with acid reflux doesn't mean giving up flavorful and satisfying foods.
About the Author
Edward R. Rosick, DO, MPH, DABIHM, is the chairperson and medical director of the Michigan State University College of Osteopathic Medicine Family and Community Medicine Department, where he has treated hundreds of patients with acid reflux disease. He is the author of more than 200 health and wellness articles for magazines including Oxygen, Life Extension, and Ultimate Athlete. He lives in Dewitt, MI.