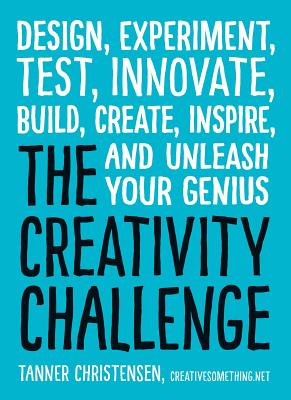 The Creativity Challenge (Paperback)
Design, Experiment, Test, Innovate, Build, Create, Inspire, and Unleash Your Genius
Adams Media, 9781440588334, 208pp.
Publication Date: August 1, 2015
* Individual store prices may vary.
Description
As seen on Inc.com

Discover your "Aha" moment--right now!

What's the best way to become more creative? Just change how you think! This book challenges you to go against your default ways of thinking in order to write, design, and build something extraordinary. Featuring more than 100 challenges, exercises, and prompts, each page guides you as you push past the way you normally see the world and uncover all-new possibilities and ideas. The Creativity Challenge teaches you that you already have immense creative potential in you--you just need to tap into it.

Whether you're feeling stumped or uninspired, these creativity prompts will help you ditch typical thinking patterns and finally unleash the possibilities hidden within your mind.
About the Author
Tanner Christensen is a creative product designer and is the founder and author of the popular Creative Something blog (www.creativesomething.net), which is a leading source of insights and thoughts on the science behind creativity and inspiration.
Praise For The Creativity Challenge: Design, Experiment, Test, Innovate, Build, Create, Inspire, and Unleash Your Genius…
"An easy read with 150 challenges, exercises and prompts designed to help you break the ruts in your thinking." --Inc.com

"Tanner Christensen's The Creativity Challenge is a book of short, one-page exercises for writers, artists, and anyone in a creative rut, from the guy behind the popular website Creative Something. Ranging from a few short minutes to a little bit longer, these exercises help us get back in the mindset we had before the pressures of everyday life squeezed us dry." --Flavorwire