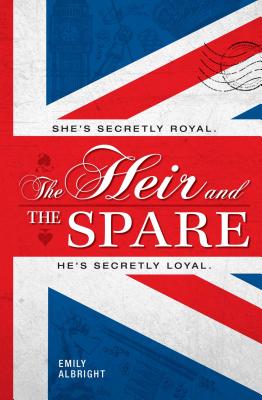 The Heir and the Spare
Hardcover

* Individual store prices may vary.
Description
Soon after starting university in Oxford, Evie finds herself falling in love with her very own prince charming—who turns out to be an actual prince—in this contemporary novel that is Anna and the French Kiss with a royal family twist.

When a letter from her late mom sends Evie to Oxford on the adventure of a lifetime, she's ready for an amazing first year of college. And it starts off with a bang—soon after setting foot on English soil, Evie falls for a boy, Edmund, who turns out to be a real prince. Second in line to the throne of England, in fact.

From the demands of his royal family, to the stuck-up aristocrat determined to be the one to win his heart, loving Edmund can be a challenge, one that Evie's more than up for. And as more letters from Evie's mom arrive, Evie and Edmund team up to sort out her mom's secret…even if the truth might change everything.
Praise For The Heir and the Spare…
"Albright debuts with an unabashed fairy tale romance of the American girl who meets her prince, while discovering her own royal background. It's a fine choice for fans of films like The Princess Diaries or The Prince and Me, or readers looking for a lighthearted romp with a guaranteed happy ending." --Publishers Weekly

"The magic of falling in love...and the challenges of difficult moral decisions are well-portrayed and have timeless appeal." --Kirkus Reviews

"The Heir and the Spare is a fun contemporary read. Evie is so cute and her sass comes out at just the perfect times, making her not too cookie-cutter or stereotypical. Ultimately, this book is a light mystery with the added steam of a royal romance, an HEA and plenty of secondary characters to enjoy." --RT Book Reviews

"Evie is on a quest to uncover a family secret that unfolds through a series of letters from her deceased mother.... [A] delicious, compulsively readable fairy tale romance." --School Library Journal

"Readers ... will appreciate this debut, which confidently combines royalty, romance, and mystery." --Booklist

"The story is enjoyable and fun to read. Never boring, never dull. Overall, this book is for those who love the PRINCESS DIARIES and its movies. THE HEIR AND THE SPARE is totally perfect for someone who is looking for a light, very cheesy, and fluffy read that isn't too serious for the brain." --YA Books Central

"An adorable book that is sure to capture any romantic's heart. The plot was incredibly fast-paced and would make for a fabulous beach read...a cute debut that will tickle any reader's toes." --TeenReads.com

"Contemporary royal romance? Yes, please! This is a fun, fast read that makes you swoon a little as you expel more than a few longing sighs. If you're hungry for clean NA romance--that happens to also be a royal romance with a heaping helping of 'ahhhhhh, sweet!'--you're going to love The Heir and the Spare." --USA Today Happy Ever After blog

"A delightful read for adults as well as...teens.... A classic with an upbeat, realistic feeling and a modern twist." --NY Journal of Books
Simon & Schuster Books for Young Readers, 9781440590108, 287pp.
Publication Date: January 1, 2016
About the Author
Emily Albright was born in Salt Lake City, and her parents moved her all over the continental US growing up. As a result, she now knows several places that she could never move to. As an only child, often in a new city, Emily spent all of her time lost in the worlds of her favorite books and making up imaginary places and friends to keep her company. A graduate of the University of Oregon, she received a degree in journalism and communication. She now gets to spend her days going back to her roots, dreaming up heroes and heroines and putting them in awkward or sometimes swoony situations. Emily now makes her home in the Pacific Northwest with her handsome husband, her amazing daughter, their crazy cock-a-poo, and feisty kitten. She has no intention of ever leaving the PNW…well, unless she could somehow finagle a free and adorable cottage in Scotland, but that seems highly unlikely. When Emily isn't writing, she's usually reading, and when she's not reading, she's binge-watching Netflix or her DVR. She always has a glass of tea at her side and usually something furry cuddled up to her. Emily is the author of The Heir and the Spare series and Perfect Harmony.
or
Not Currently Available for Direct Purchase