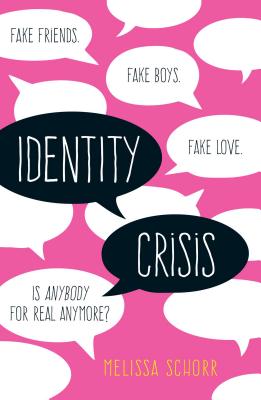 Identity Crisis (Hardcover)
Simon Pulse, 9781440590139, 240pp.
Publication Date: January 1, 2016
Other Editions of This Title:
Paperback (8/23/2017)
* Individual store prices may vary.
Description
Who does she think she is? Annalise's audacious freshman-year hookup with Cooper Franklin has a trio of friends thirsting for revenge. So they catfish Annalise by creating the perfect virtual guy, with Noelle playing along reluctantly only because her lifelong crush, Cooper, is in love with Annalise. As Annalise falls for it, even buying tickets for the concert of the year for her and her mythical new guy, Noelle feels more and more guilty. Then, the whole thing blows up and Annalise faces her betrayers. But when Annalise forgives, the reunited friends learn that adults--even famous adults--can be even more bogus than teenagers.
About the Author
Widely published journalist Melissa Schorr has been a stringer for People Magazine, a columnist for the Las Vegas Sun, a contributing editor for the Boston Globe Sunday Magazine, as well as a freelance writer for dozens of publications from Self to GQ. She is the author of the interfaith romantic comedy Goy Crazy, and also contributed to the YA anthology Dear Bully: Seventy Authors Tell Their Stories (Harper Collins).
Praise For Identity Crisis…
"Catfishing is used as a way to get revenge in this social-media-themed cautionary tale. Each girl's personal discoveries and growth make this a strong choice for libraries and a good discussion starter about social media and bullying." --Booklist

"Annalise...discovers that she's been the victim of a 'catfishing' prank. How this melodrama plays out is unconventional and worth the read. Schorr creates a robust and likable character in Annalise.... The writing and language are fluid and blend seamlessly with the mood of the book. A solid additional purchase for large YA collections."--School Library Journal

"Teenage girls play out a revenge drama online only to discover that there's no hiding one's true identity. A crowd pleaser...for teens looking for love in all the wrong places, this social media fable is dramatized with love triangles, revenge, and rock-'n'-roll." --Kirkus Reviews

"Identity Crisis delves into offline difficulties, too, from job loss, fear of parental divorce, slut-shaming, fandom, body image issues, sibling stress and other issues that compound their virtual lives. Parents, teacher and tweens/teens need to read Identity Crisis. There are many important lessons that can be learned. You will come away with a new sense of empathy--and want to be sure that no one ever does this to someone you love." --Sue Scheff on The Huffington Post

"This breezy novel may appeal to readers who like the melodrama of adolescence." --The Horn Book Magazine

"An addicting storyline that shows the rise of the prank, the discovery, and the reconstruction of the girls' relationship.... An awesome and nail-biting plot, and the conflict is simply irresistible. Noelle is a character most readers can probably empathize with. The story is unique, and it's definitely for those who are looking for something out of the ordinary." --YA Books Central

"Extremely important and beautiful. Couldn't stop reading, really helped me understand peer pressure and the Internet." --Teen Librarian Toolbox/School Library Journal

"Addressing 'mean girl' behaviors, along with Internet safety and the verity of online identities, Schorr's novel delivers a carefully crafted tale.... A fast, fun read for contemporary teen girls interested in friendship, revenge, bullying, regret, light romance, and online safety, this drama-filled novel will encourage less-inclined readers to persevere to the end. This book is recommended for public and school libraries." --VOYA Magazine
or
Not Currently Available for Direct Purchase