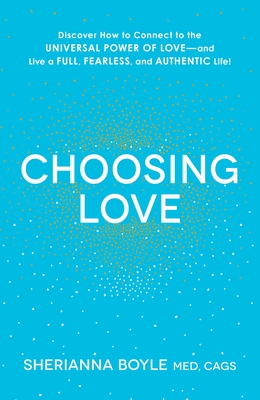 Choosing Love (Paperback)
Discover How to Connect to the Universal Power of Love--and Live a Full, Fearless, and Authentic Life!
Adams Media, 9781440591846, 240pp.
Publication Date: December 4, 2015
* Individual store prices may vary.
Description
From Fearful Living to Fearless Loving!

Are you ready to see love in a whole new light, let go of your deepest fears and everyday stresses, and experience real joy and abundance? Choosing Love redefines the way you perceive love and teaches you how to connect with yourself--and others--in ways you've never imagined. Using her years of expertise as a psychologist, professor, and energy healer, Sherianna Boyle guides you through each step of your journey with details on setting an intention to choose love, breaking free from fear and self-limiting beliefs, and tapping deep within yourself to access the love that's already there. Each page offers groundbreaking techniques for nurturing love's vibrations and releasing anything that no longer serves you.

Complete with exercises and mediations to further open up your heart, Choosing Love will show you how to heal from past experiences, empower your inner voice, and manifest a full and fearless life.
About the Author
Sherianna Boyle is a former school psychologist and presently works as an instructor at Cape Cod Community College. She is the author of five books and has contributed to more than thirty published articles She has been featured in Psychology Today, Psych Central, and Mantra Yoga + Health magazine, and her book The Four Gifts of Anxiety was endorsed by the National Alliance on Mental Illness. She has a local television show called Thriving from Anxiety and a flourishing Choosing Love community page on Facebook. Sherianna's most prominent work is as an energy practitioner, servicing clients with histories of anxiety, depression, trauma, and more. She has been teaching yoga/mediation for fourteen years. She is married and raising three daughters. For more information on her classes, workshops, and services, visit www.sheriannaboyle.com.
Praise For Choosing Love: Discover How to Connect to the Universal Power of Love--and Live a Full, Fearless, and Authentic Life!…
"If there is a relationship in your life causing you stress or fear...let Choosing Love be your guidebook on how to love the right way. Transform the relationships in your life in a way that will have you overflowing with happiness and joy.... Eradicate that fear to go all in." --Metro US

"The book...offers meditations and explores real-life scenarios and how responses to them can change the outcome of relationships." --Cape Cod Times