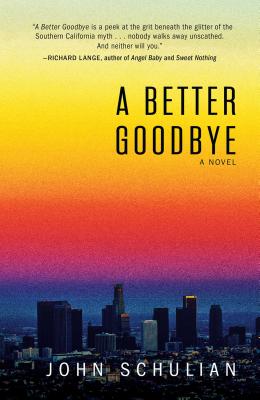 A Better Goodbye
A Novel
Paperback

* Individual store prices may vary.
Other Editions of This Title:
Digital Audiobook (12/3/2015)
Hardcover (12/4/2015)
Compact Disc (12/4/2015)
MP3 CD (12/4/2015)
Compact Disc (12/4/2015)
Description
Sports Illustrated Sports Book of the Year 2015

PEN/ESPN Lifetime Achievement Award Winner

Nick Pafko knows he can't be a professional boxer forever. But he never guessed it would end so quickly, and so wrong. Broke and unemployed, Nick has little choice but to call a number given to him by a friend. On the other end? Scott, a washed-up B-movie actor who runs a so-called massage parlor looking for somebody desperate enough to work security.

Jenny Yee doesn't really mind massage, until the day she finds her coworkers robbed and assaulted. Fearing for her safety, she resolves to never work without security again. With mounting expenses, she knows massage is the fastest way to get paid. When an old massage acquaintance calls Jenny to ask her to work for Scott, she agrees--and before long, she's the top earner.

Scott is an arrogant moron, but he's harmless compared to the thug he calls "friend"--Onus Dupree. When DuPree decides to rob Scott's massage joint, it's the perfect opportunity to beat up Nick and take advantage of Jenny. Can Nick stay true to his promise to protect Jenny? Can he protect himself?
Praise For A Better Goodbye: A Novel…
"This visceral, gritty noir takes place on the seedy fringes of modern Hollywood. The dialogue is razor sharp, and the characters well developed—the good-hearted Nick is easy to root for. A robbery triggers a grisly showdown as this thriller hurtles toward its nail-biting conclusion." --Publishers Weekly

"Schulian is a former Chicago sports journalist who relocated to L.A....and his first novel tells the tales of a boxer haunted by the man he killed in the ring.... As a low-key look at L.A. lowlife, this has its strong passages." --Booklist

"A Better Goodbye ... [John Schulian's] noirish first novel, is thick with classic lowlifes, including down-on-his-luck boxer Nick Pafko, who has never recovered from killing an opponent in the ring; Schulian's ... stylish writing brings a fresh dimension to the genre." --The Chicago Tribune

"Schulian sketches mood, scene, and character with deft strokes. A Better Goodbye offers a seamy panorama of Los Angeles. Schulian knows its neighborhoods from top to bottom, and he surrounds Nick and Jenny with a large cast of characters who seem unique to L.A. in their collective miasma. You couldn't get a more authentic sense of the city today." --Arts Journal

"In his latest contribution to literature Schulian tackles a new genre--noir fiction--and battles it to a lively draw.... A hard punching page-turner." --Boxing.com

"It's a savvy book about boxing, but it's also a sweet little love story, and as you might expect from a sports writer, it's just really gritty and smart." --SCPR.org

"Unusual but fascinating narrative. Schulian's skills are impressive.... Schulian's debut will appeal to crime fiction readers who want a change from the standard mystery-to-be-solved formula, and to general readers curious about a side of life seldom depicted in fiction. Along with all this, it establishes John Schulian as a novelist well worth watching." --Bookgasm

"The recently released novel combines two of my favorites: L.A. Noir and Schulian.... It should make a great New Year's present for someone who appreciates great writing by a gifted former newspaper sports columnist." --The Daily Herald

"This gem of L.A. noir fiction builds to a deadly showdown between good guy Nick Pafko, a former boxer haunted by the man he killed in the ring, and sleek thug Onus DuPree Jr." --Sports Illustrated, Sports Book of the Year

"Readers looking for an Elmore Leonard-esque good time might prefer sports writer-turned-TV producer (and local kid) John Schulian's novel A Better Goodbye." --LA Magazine

"A Better Goodbye is a terrific book, a detailed and fast-paced trip to the dark sides of Los Angeles. His characters...exist in the shadows, flawed and desperate, dangerous and dreamy." --Rick Kogan, The Chicago Tribune

"A seething portrait of the dirty underbelly of that black magical dreamscape known as Los Angeles." --Broad Street Review
Gallery Books, 9781440592058, 302pp.
Publication Date: December 4, 2015
About the Author
John Schulian was a nationally syndicated sports columnist for the Chicago Sun-Times before moving to Hollywood to write and produce TV dramas. A Better Goodbye is his first novel. His short fiction has appeared on the websites Thuglit and The Classic and in The Prague Revue. He lives in Southern California.