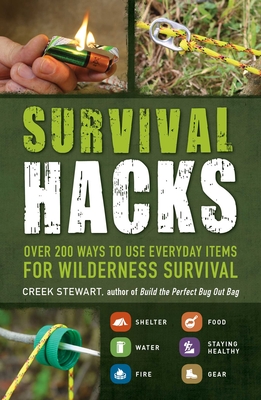 Survival Hacks (Paperback)
Over 200 Ways to Use Everyday Items for Wilderness Survival
Adams Media, 9781440593345, 256pp.
Publication Date: April 1, 2016
* Individual store prices may vary.
Description
Turn everyday items into survival necessities!

Would you be prepared if you needed to survive in the wilderness? Survival expert Creek Stewart shares his cache of practical, easy-to-follow tricks to help you transform everyday items into valuable gear that can save your life. Survival Hacks takes you step-by-step through transforming simple objects like soda tabs and plant leaves into essential survival tools.

This rough-and-rugged guide covers everything from small-scale hacks, like using sticks and rope to make a table, to the big stuff, like creating a one-person emergency shelter from a trash bag or purifying dirty water using a plastic bottle and the sun. And you can be ready anywhere you go with everyday carry kits, pocket-sized survival kits, so you're never without the essential tools you need to make it on your own. Being prepared can make the difference when it comes to your survival in an emergency. And Survival Hacks makes it a whole lot easier.
About the Author
Creek Stewart is an expert survival instructor and author of Survival Hacks and the bestselling Build the Perfect Bug Out series. Stewart is the Weather Channel Survival Expert, as well as the host of the show Fat Guys in the Woods. He's the owner and founder of Willow Haven Outdoor Survival Training Schools in Central Indiana, and was named one of the "Top 10 Survival Schools" by MSN Travel. He lives in Carmel, Indiana.
Praise For Survival Hacks: Over 200 Ways to Use Everyday Items for Wilderness Survival…
"Most of us need never fashion a gas mask from a soup can.... Should the need arise, you'll be glad for a copy of Survival Hacks. Survival trainer Creek Stewart, who hosted Fat Guys in the Woods for The Weather Channel, offers tips ranging from making a cookstove from a packet of alcohol-soaked ramen to cutting a fishing lure from the shiny bits of your Visa card." --The Seattle Times

"Creek Stewart's new book Survival Hacks is full of fun tricks ... giving children fun, useful puzzles to occupy their minds during camping trips. The book's focus on common, everyday objects makes each 'hack' affordable, and the challenge of properly constructing, then using those hacks should provide hours of fun, while teaching kids to be resourceful." --Outside Magazine Online

"A fantastic new book that combines two topics that are presently very popular, survival prepping & life hacking. He brings a wealth of experience to the table, and has helped thousands of people improve their survival skills." --The Backwoodsman