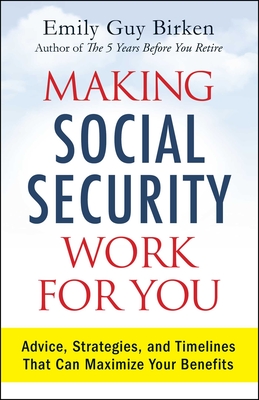 Making Social Security Work for You (Paperback)
Advice, Strategies, and Timelines That Can Maximize Your Benefits
Adams Media, 9781440593376, 256pp.
Publication Date: June 4, 2016
* Individual store prices may vary.
Description
Featured in The Washington Post

An up-to-date guide to getting the most out of Social Security under the new regulations that took effect on April 29, 2016.

Despite reports of Social Security's impending bankruptcy, Social Security remains an important part of most Americans' retirement plans. But will it be enough? Making Social Security Work for You teaches you what you need to know about Social Security retirement benefits and the options you can choose to help meet your retirement goals. In straightforward, easy-to-understand language, this compact guide provides advice on the advantages and disadvantages of delaying benefits as well as the best ways to maximize your benefits depending on your financial or marital situation.

Featuring a glossary of terms to help you better understand Social Security jargon; a full explanation on how the system works under the new regulations that took effect on April 29, 2016; and practical, actionable advice on how and when to save additional retirement funds, this book shows you how to make your retirement the best it can possibly be.

"Guy Birken brings her breezy style to explaining a system that can be mind-numbing." --The Washington Post
About the Author
Emily Guy Birken is a finance writer who writes the "Live Like a Mensch" column for The Dollar Stretcher. She is also a contributor to Wise Bread, PT Money, Money Crashers, Yahoo! Finance, and Business Insider, and many other personal finance sites. She edits and writes for the FinCon blog, an annual conference for financial bloggers. She is the author of The 5 Years Before You Retire, Choose Your Retirement, Making Social Security Work for You, and End Financial Stress Now. You can visit her at SAHMnambulist.blogspot.com.
Praise For Making Social Security Work for You: Advice, Strategies, and Timelines That Can Maximize Your Benefits…
As seen on NextAve and Wisconsin Public Radio!

"Birken's style of writing is easy-to-follow. She has a subtle sense of humor that comes out in her writing. This makes the material enjoyable to read, even for a dry subject like Social Security." --Financial Ducks in a Row

"A thoroughly rewritten book that reflects the starkly different land scape new and near retirees must now unexpectedly navigate. Spend a couple of enjoyable hours with this book and you'll already be ahead of your fellow retirees … .Any worries you may have about your ability to navigate this complex process should dissolve completely by the time you close the cover. Without a doubt, this is the perfect first book for any Social Security novice."
— Better Investing