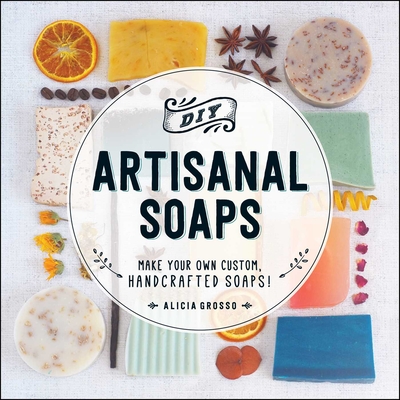 DIY Artisanal Soaps (Paperback)
Make Your Own Custom, Handcrafted Soaps!
Adams Media, 9781440594083, 208pp.
Publication Date: January 9, 2016
* Individual store prices may vary.
Description
Handmade soap from scratch!

Lavender Geranium Ribbon
Seaweed Salt Scrub
Ocean Fresh Cream Soap

Making your own luxurious and lovely soaps is easier than you think! With DIY Artisanal Soaps, you'll find everything you need to make all-natural, custom-designed soaps using locally sourced ingredients and beautifully scented essential oils. Featuring easy-to-follow instructions and tips for personalizing your designs, this book guides you through every step of soapmaking, allowing you to create unique bath and home products every time. Learn how to turn your garden or farmers' market finds into beautiful, handcrafted soaps, with invigorating scents like peppermint and rosemary or the summer-inspired pairings of ginger and papaya. You can even customize the fragrances and textures in the recipes to create the perfect product for your skincare needs.

Complete with stunning photographs and unique ideas for gifting, packaging, and selling your creations, DIY Artisanal Soaps helps you bring the vibrant colors and scents of nature into your home.
About the Author
Alicia Grosso has been creating handmade soap and toiletries for more than a decade. The owner and creative director of the Annabella and Company Creative Collective (www.annabellaandcompany.com), she also teaches classes and workshops in soapmaking. She lives in Los Angeles, CA.