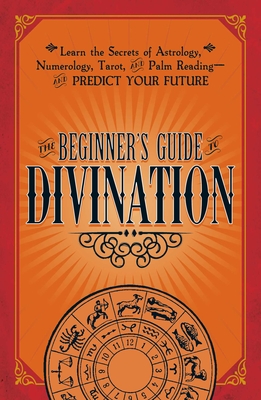 The Beginner's Guide to Divination
Learn the Secrets of Astrology, Numerology, Tarot, and Palm Reading--and Predict Your Future
Paperback

* Individual store prices may vary.
Description
What would you do if you could see the future?
Astrology, numerology, tarot, and palmistry have been used for centuries to divine events to come.
The Beginner's Guide to Divination
will teach you to practice the mystical arts of divination and predict the future yourself. Explore the remarkable histories and secret languages of these esoteric practices as you master techniques to view--and even influence--your fate.
You'll learn how to:
Create your birth chart and discover how the stars influence the decisions you'll make
Use Tarot cards to learn about people who will cross your path and events that will affect you
Examine your palm to uncover challenges and opportunities ahead
Find your universal number and use it to manifest your greatest desires
Determine which system works best with your own natural clairvoyance
Complete with detailed charts and illustrations, this all-in-one guide will help you illuminate the path of your life's journey, enhance your intuitive powers, and take control of your future!
Adams Media, 9781440594823, 272pp.
Publication Date: January 1, 2016
About the Author
Adams Media provides helpful, funny, and inspiring books on a wide variety of topics, so no matter who you are, we've got you covered. Our editors are just like you—living, loving, and learning every day. Our personal experiences and expertise in our given book categories allow us to bring you some of the best content on the market—from parenting to relationships, to the paranormal, cooking, and humor—we cover what you care about.