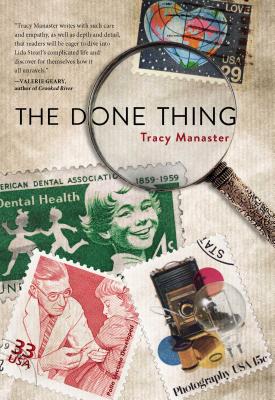 The Done Thing
A Book Club Recommendation!
Hardcover

* Individual store prices may vary.
Other Editions of This Title:
Paperback (12/5/2017)
Description
Lida Stearl prides herself on always knowing the most appropriate thing to do in any given situation--confidence that has served her well in building her career as an orthodontist, maintaining a happy marriage, and raising her young niece in the wake of a violent tragedy. But now she's a widowed, retired empty-nester and the small perfections of an orderly life are not quite enough to stop her from feeling adrift.

Then a well-intentioned birthday gift leads to the discovery that Clarence Lusk, on death row for the murder of Lida's sister, is seeking penpals from the outside. And so, for the first time in her life, Lida crosses a line: she begins to write to him, pretending to be naive, twenty-three, and just the slightest bit flirtatious. As letters pass steadily between Lida and Clarence, her preoccupation with his crime and its echoes intensifies, and she finds that crossing one line makes the ones that follow all the more tempting to cross.
Praise For The Done Thing: A Book Club Recommendation!…
"Manaster (You Could Be Home by Now) has written a deeply human and morally saturated novel, with captivating language. Don't miss this sympathetic examination of how a tragic incident can irrevocably change a life's course."
— Library Journal, Starred Review

"In this engrossing story about the effects that vengeance can have on love, Manaster refuses to take the happy, easy way out, instead leaving her strikingly relatable characters with just enough room to breathe."
— Publishers Weekly

"The Portlander's delivery is always laced with smart and sly subtleties. Manaster draws magnetically, without a load of extras, and her audience is likely to sneak away only to fill a drink for her, to ensure she doesn't stop telling her story."
— The Register-Guard

"The Done Thing is a masterful example of what fiction can be. The writing is sharp and evocative, tenderly depicting a sister's grief-born obsession. Clarence is an unrepentant villain, so different from typical death penalty-themed novels. Lida is wounded and bitter, tender and loving, and completely lost in the past. But justice, compassion and forgiveness are the real main characters of this book, and readers will know them better by the story's end."
— The Deseret News

"Lida Stearl is many things: a widow, a parent, a retired orthodontist, a proper St. Louis lady of a certain age, and hell-bent on making her sister's killer's final days on earth as unpleasant as possible. What begins as one woman's obsessive, secret quest for revenge unfolds into a skillfully written exploration of forgiveness, family, loyalty, and justice. Tracy Manaster's caustic yet tender second novel is a masterpiece."

— Mo Daviau, author of Every Anxious Wave

"An intimate and emotionally-charged novel about a complex woman, haunted by her past losses, who becomes obsessed with making the last days of one man's life as miserable as she possibly can. In her second book, Tracy Manaster writes with such care and empathy, as well as depth and detail, that readers will be eager to dive into Lida Stearl's complicated life and discover for themselves how it all unravels."
— Valerie Geary, author of Crooked River

"The Done Thing is a wonderfully engrossing novel — the unnerving and vividly-imagined tale of Lida Stearl, a charming widow who maintains her polite exterior although she's quietly riven by grief and righteous fury. Tracy Manaster has written a novel that beguiles with its characters and its gripping story, but it also provides a rich investigation into what happens when we give space to our terrible little impulses, how these tiny monstrosities can grow and spread beyond our control."
— Peter Mountford, author of The Dismal Science and A Young Man's Guide to Late Capitalism
Gallery Books, 9781440596728, 288pp.
Publication Date: November 4, 2016
About the Author
Tracy Manaster is a graduate of Wesleyan University and The Iowa Writers' Workshop. Her earliest ambition was to be a balloon seller in Central Park, followed by dreams of being a whitewater guide on the Green River, and then an archaeologist; now, she writes. Her family plays an elaborate, ritualized card game involving maracas, she will share the secret to a perfect blueberry pie with anyone who asks, and she spends way too much time trying to map a road trip that hits each National Park during its most beautiful season. She is the author of the novels You Could Be Home By Now and The Done Thing. Tracy lives in Portland, OR with her husband and twin daughters.
or
Not Currently Available for Direct Purchase