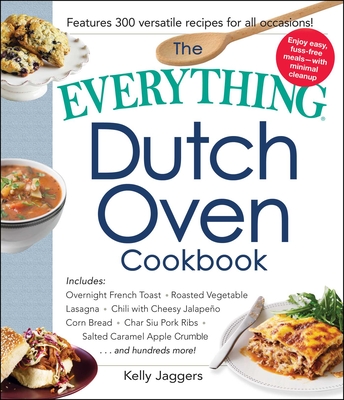 The Everything Dutch Oven Cookbook (Paperback)
Includes Overnight French Toast, Roasted Vegetable Lasagna, Chili with Cheesy Jalapeno Corn Bread, Char Siu Pork Ribs, Salted Caramel Apple Crumble...and Hundreds More! (Everything®)
Everything, 9781440597619, 320pp.
Publication Date: August 5, 2016
* Individual store prices may vary.
Description
Easy, inventive, and delicious recipes for the most versatile pot in the kitchen!
Are you a fan of Dutch oven cooking and searching for some new recipes to put on the table? Your search ends here.
The Everything Dutch Oven Cookbook
features 300 recipes for easy-to-prepare dishes for all occasions, including:
Overnight French Toast
Beef Stroganoff
Clam and Potato Chowder
Chinese Vegetables in Brown Sauce
Roasted Chickpeas and Zucchini
Stone Fruit Stew with Shortbread
Warm Chocolate Pudding Cake
Also featured is comprehensive information about how to select and care for cast-iron and enameled Dutch ovens. This guide is your ultimate resource for creative, delicious, and effortless one-pot meals.
About the Author
Kelly Jaggers is a cookbook author, recipe developer, food photographer, and founder of the recipe blog Evil Shenanigans. She specializes in creating indulgent recipes featuring fresh, seasonal ingredients and lots and lots of butter! She is the author of The Everything® Pie Cookbook, Not-So-Humble Pies, Moufflet, The Everything® Easy Asian Cookbook, and The Everything® Dutch Oven Cookbook. When she is not developing recipes she works as a food stylist and food photographer, and she also teaches cooking classes and works as a personal chef and caterer. She lives in Dallas, Texas.