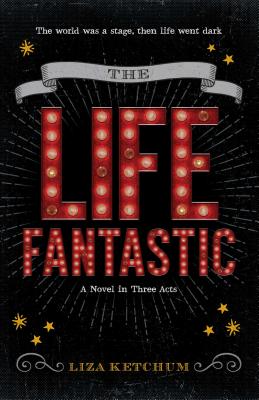 The Life Fantastic
A Novel in Three Acts
Hardcover

* Individual store prices may vary.
Description
As seen in the Publishers Weekly African-American Titles for Young Readers feature!

Will Teresa Find Fame But Lose Her Soul?

It's 1913 and vaudeville is America's most popular form of entertainment. Thousands of theaters across the country host vaudeville troupes. In Brattleboro, Vermont, fifteen-year-old Teresa LeClair--who has a "voice like a nightingale"--remembers the thrill of singing onstage as a child. But her parents have given up life on the road, and her father has decided that Teresa, blessed with perfect pitch, should drop out of school and work in the tuning rooms of the organ factory.

Determined to escape the life her father wants for her, Teresa wins an amateur singing contest in Brattleboro's opera house and steals away on the night train to New York. She hopes to become a star on Broadway's "Great White Way," but has no idea of the challenges that lie ahead. There she runs into Pietro Jones and his father, talented African American dancers. Teresa and Pietro become competitors as well as unlikely friends.

At a time when young black men could be lynched for simply looking at a white girl, Pietro understands, better than Teresa, the danger of their relationship. Teresa's quest to find her voice onstage and in her life, far from the support of her family, takes place against a complex racial backdrop of American history.
Praise For The Life Fantastic: A Novel in Three Acts…
"Vaudeville in the early 1900s makes for a thought-provoking setting for a tale of racial discrimination with direct parallels to today's issues.... The plot and characters are strong enough to carry that theme.... Historical fiction, racial discrimination, a budding love story, and youthful characters make this a fine additional purchase for libraries." --School Library Journal

"Raised on the road with vaudevillian parents and gifted with a golden voice, young Teresa LeClair sets out to 'shoot for the stars--or die trying' in Ketchum's newest historical novel. A jam-packed ride through early-20th-century performance culture." --Kirkus Reviews

As seen in the Publishers Weekly African-American Titles for Young Readers feature

"The Life Fantastic provides a fascinating window into the 1900s New York vaudeville scene, while examining the complexities of family support and expectations, as well as burgeoning black activism ... .Ketchum fits it together seamlessly and entertainingly. Her love of vaudeville shines through Teresa and her descriptions of 1913 Broadway, but she does not ignore the built-in limitations placed on people of color."
— VOYA Magazine

"Ketchum weaves a gripping story of racial discrimination in the performing arts … .Ketchum paints a vivid portrait of the difficult life of a performer and the indignities and prejudice endured by artists of color … .Lovers of theater and history will find a great deal to sink their teeth into."
— Publishers Weekly

"Ketchum's new read stars a teen whose beautiful voice takes her out of her family home to the great New York City. Filled with young dreams and the realities of racial discrimination, it's a story that's as relevant today as ever."
— Brit + Co

"Liza Ketchum creates a story as vibrant as the era itself … perhaps the greatest strength of the story is the historical accuracy tangible in the novel. Ketchum manages to capture the unique flavor and tone of the era of Vaudeville --- the bond of shared dreams and challenges that connected performers as a family. a fun and quick read for younger teens."
— Teenreads

"Provides much fodder for discussing race relations and the power of song."
— Booklist

"This was a unique, behind-the-scenes look at the vaudeville circuit … .I love a good historical read, and I can't advocate enough for these types of books that combine fiction and history in positive ways … to be required reading in our schools. Factual history books are important, sure, but if you can find a realistic character to empathize with … I think you're going to be a more well-rounded person for it. Ketchum brought the 1910s NYC to life, using real songs and places to bring an air of authenticity to the novel."
— Forever Young Adult
Simon & Schuster Books for Young Readers, 9781440598760, 256pp.
Publication Date: January 1, 2017
About the Author
Liza Ketchum is the author of The Life Fantastic, a Simon & Schuster book.
or
Not Currently Available for Direct Purchase