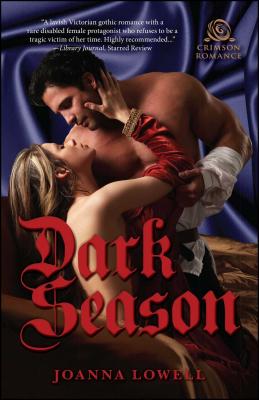 Dark Season
Paperback

* Individual store prices may vary.
Description
From Pushcart Prize-winning author Joanna Lowell comes a dazzling gothic romance that will keep readers spellbound till the final page.

Haunted by her Future

Tainted. Degraded. Doomed. Doctors told Ella Arlington that her epilepsy would prevent her from living a normal life. When her cousin tries to put her in an institution, she flees to London, determined to control her own destiny. But while at a seance, Ella's epileptic fit is mistaken for spiritual possession. Loath to reveal her scandalous condition, she goes along with the misperception, and soon finds herself attracting the attention of a devilishly handsome viscount determined to keep the past buried.

Tortured by his Past

Viscount Isidore Blackwood's fiancee died with secrets he's vowed to keep, but nothing could have prepared him for the arrival of a mysterious woman who's rumored to have contacted her ghost. He doesn't believe for a moment that Ella possesses supernatural powers. Her presence, however, shakes him to his core and when he accuses Ella of being a con artist, sparks unexpectedly ignite between them.

When some surprising truths come to light about Phillipa's death, Isidore concocts a plan to stage a spectacle of a seance for the ton with Ella's help. Their devil's pact might just flush out a killer, but will Isidore let his fury and guilt consume his own soul in the process? And can Ella trust him enough to gamble on a future she never thought she could have?

Sensuality Level: Sensual
Crimson Romance, 9781440599385, 330pp.
Publication Date: September 26, 2016