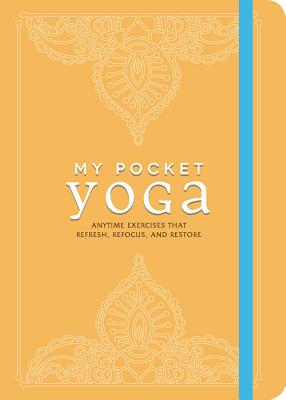 My Pocket Yoga (Paperback)
Anytime Exercises That Refresh, Refocus, and Restore
Adams Media, 9781440599446, 176pp.
Publication Date: January 1, 2017
* Individual store prices may vary.
Description
Make time for you--anytime, anywhere!

As you go about your busy day, it's important to make time to catch your breath and recharge. My Pocket Yoga help you quiet the noise and achieve serenity at home, at the office, or even in your car--in mere minutes.

Throughout your day, you'll be able to choose from 40+ breathing exercises and easy-to-follow poses, complete with illustrations. These quick yet powerful exercises allow you to be more mindful, increase your awareness, and find your center in any situation. After a quick break for a yoga pose or focused breathing, you can return to your to-do list feeling more balanced, centered, and refreshed.

Say goodbye to distraction, and greet your daily challenges with a calm, clear mind--all you need is My Pocket Yoga.
About the Author
Adams Media provides helpful, funny, and inspiring books on a wide variety of topics, so no matter who you are, we've got you covered. Our editors are just like you—living, loving, and learning every day. Our personal experiences and expertise in our given book categories allow us to bring you some of the best content on the market—from parenting to relationships, to the paranormal, cooking, and humor—we cover what you care about.
Praise For My Pocket Yoga: Anytime Exercises That Refresh, Refocus, and Restore…
"I've been saying I want to get back into yoga and this is just the push I needed. This book demonstrates many different poses and also gives sequences for cleansing, relaxation, energy and fitness. The directions are easy to follow and I like the elastic strap to hold the book closed. I thought this was a great inclusion in a lifestyle box and was the first time Gift Izzy has mailed a book. It was a nice surprise to see something new."
— My Suscription Addiction