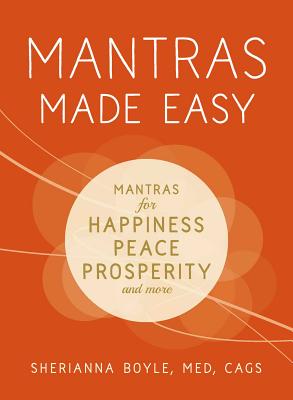 Mantras Made Easy (Paperback)
Mantras for Happiness, Peace, Prosperity, and More
Adams Media, 9781440599972, 224pp.
Publication Date: January 2, 2017
* Individual store prices may vary.
Description
Discover the power of your words!

Your cellphone rings--you automatically reach for it. Your child calls for you--your innate response is to go to him. Just like you are programmed for these responses, so too can you train your brain to manifest your life's goals and dreams. It is as amazing and powerful as it sounds--and it is entirely possible with the help of mantras.

Simply put, mantras are syllables or phrases you repeat. The act of repeating these words can energize you, aiding you to manifest your ambitions. In Mantras Made Easy, you will learn how to positively influence your thinking as well those around you.

Whether you hope to achieve happiness, forgiveness, peace, or wealth, there are mantras here to guide you. With coaching from professor and counselor Sherianna Boyle, you will tap into the power of this ancient practice and unlock your true potential. From overcoming challenges to starting a whole new chapter of your life, the 200 mantras in this book will allow you to achieve your highest potential and become a source of infinite love. If you're ready, just say the word.
About the Author
Sherianna Boyle, MEd CAGS, is an adjunct psychology professor, certified energy practitioner, yoga instructor, and author of seven books; she has also been published in more than fifty articles. She is the author of Mantras Made Easy, The Conscious Parent's Guide to Childhood Anxiety, and The Everything Parent's Guide to Overcoming Childhood Anxiety. Her transformative Emotional Detox program is also featured as part of the Kripalu Center for Yoga & Health's workshop series. Her book The Four Gifts of Anxiety, was endorsed by NAMI, and Choosing Love, was placed on the top ten must reads with Metro US. Sherianna's services and resources can be found at SheriannaBoyle.com.
Praise For Mantras Made Easy: Mantras for Happiness, Peace, Prosperity, and More…
"If you're new to mantras, the book Mantras Made Easy by Sherianna Boyle, is a good place to start. Here, five that will help you remember to prioritize love and hope, no matter what."
— Rodale's Organic Life

"A collection of chants and slogans meant to help people tap into the power of positive thinking. Whether you're looking to manage your anxiety, find more joy in your life, or summon the courage to start a new chapter, Boyle's got a mantra that may help."
— Health.com