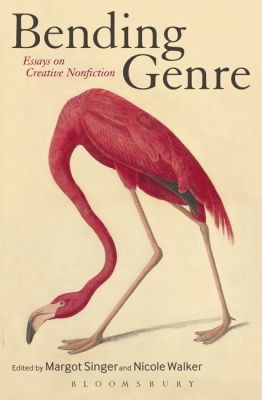 Bending Genre
Essays on Creative Nonfiction
Paperback

* Individual store prices may vary.
Description
Ever since the term creative nonfiction first came into widespread use, memoirists and journalists, essayists and fiction writers have faced off over where the border between fact and fiction lies. This debate over ethics, however, has sidelined important questions of literary form. Bending Genre does not ask where the boundaries between genres should be drawn, but what happens when you push the line. Written for writers and students of creative writing, this collection brings together perspectives from today's leading writers of creative nonfiction, including Michael Martone, Brenda Miller, Ander Monson, and David Shields. Each writer's innovative essay probes our notions of genre and investigates how creative nonfiction is shaped, modeling the forms of writing being discussed. Like creative nonfiction itself, Bending Genre is an exciting hybrid that breaks new ground.
Praise For Bending Genre: Essays on Creative Nonfiction…
"Opens up via several essays by some of the best current practitioners and theorists of the essay-writing craft...The essays of Part II, 'Structures', offer numerous examples and ideas of shaping organizational frameworks for the essay...an excellent job discussing the uses of story, elements,montage, white spaces, lack of closure, etymology, and metaphor...I would recommend this collection to all serious writers." -Heidi Czerwiec, Rain Taxi, Fall 2013  "A wonderfully queer enterprise. Collectively, it is not entirely criticism; not entirely creative writing. Singer and Walker collate the essays to destabilize the reader's assumptions and expectations of the text--and they do so successfully...Perplexing and intellectually stimulating, Bending Genre and all the questions it raises continues the discussion outside of the text. What is particularly noteworthy of Singer and Walker is that their project--much in vein of "queer" and of the notion that writing, like critical thinking, is interminable--remains alive online. They have harnessed the powers of new media to keep the discussion going, both on Facebook as well as the project's website." - Marcie Bianco, LambdaLiterary.org
Bloomsbury Academic, 9781441123299, 208pp.
Publication Date: March 14, 2013
About the Author
Margot Singer is Associate Professor of Creative Writing at Denison University in Granville, Ohio. She also teaches in the low-residency MFA Program at Queens University in Charlotte, N.C., USA. She is the author of a collection of stories, The Pale of Settlement (University of Georgia Press, 2007), winner of the Flannery O'Connor Award for Short Fiction, the Glasgow Prize for Emerging Writers, and the Reform Judaism Prize for Jewish Fiction. Her stories and essays have appeared in the Kenyon Review, Conjunctions, the Gettysburg Review, Shenandoah, and elsewhere. She has received a National Endowment for the Arts Fellowship in Prose and the Thomas Carter Prize for the Essay. Nicole Walker received her PhD in Creative Writing from the University of Utah and currently teaches at Northern Arizona University in Flagstaff, USA. Her nonfiction book, Quench Your Thirst With Salt, won the 2011 Zone 3 nonfiction prize and will be published next year. She is also the author of a collection of poems, This Noisy Egg (Barrow Street, 2010). Her work has appeared in the journals Fence, the Iowa Review, Fourth Genre, Shenandoah, New American Writing, the Seneca Review, Ploughshares, and elsewhere. She has been granted a National Endowment for the Arts Fellowship in Poetry.