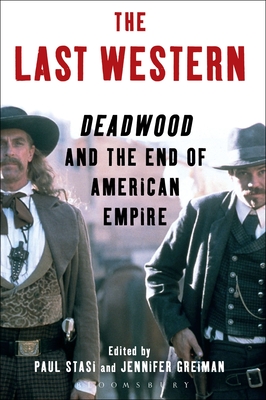 The Last Western: Deadwood and the End of American Empire (Paperback)
Deadwood and the End of American Empire
Bloomsbury Academic, 9781441126306, 224pp.
Publication Date: December 20, 2012
* Individual store prices may vary.
or
Not Currently Available for Direct Purchase
Description
Perhaps the most sophisticated and complex of shows in HBO's recent history, Deadwood has surprisingly little coverage in our current scholarship. Grounding contemporary anxieties about race and class, domesticity and American exceptionalism in its nineteenth-century setting, Deadwood revises our understanding of a formative period for the American nation through a re-examination of one of the main genres through which this national story has been transmitted: the Western. With contributions from scholars in American studies, literature, and film and television studies, The Last Western situates Deadwood in the context of both its nineteenth-century setting and its twenty-first-century audience. Together, these essays argue for the series as a provocative meditation on both the state and historical formation of U.S. empire, examining its treatment of sovereign power and political legitimacy, capital accumulation and dispossession, racial and gender identities, and social and family structures, while attending to the series' peculiar and evocative aesthetic forms. What emerges from this collection is the impressive range of Deadwood's often contradictory engagement with both nineteenth and twenty-first century America.
About the Author
Jennifer Greiman is Associate Professor of English at the University at Albany, SUNY, US. She is the author of Democracy's Spectacle: Sovereignty and Public Life in Antebellum American Writing (Fordham 2010), as well as essays on Gustave de Beaumont, Herman Melville, and Edgar Allan Poe. Paul Stasi is Assistant Professor of English at the University at Albany, SUNY, US. He is the author of Modernism, Imperialism and the Historical Sense (2012), as well as essays on T.S. Eliot, Richard Flannagan, James Joyce, Ezra Pound and Jean Toomer.
Advertisement