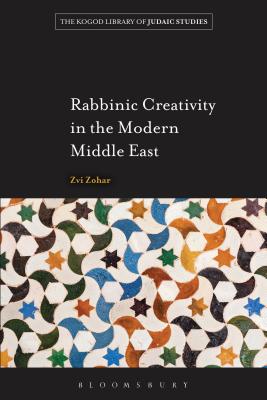 Rabbinic Creativity in the Modern Middle East (Robert and Arlene Kogod Library of Judaic Studies) (Paperback)
Bloomsbury Publishing PLC, 9781441133298, 416pp.
Publication Date: June 20, 2013
* Individual store prices may vary.
Description
Rabbinic Creativity in the Modern Middle East provides a window for readers of English around the world into hitherto almost inaccessible halakhic and ideational writings expressing major aspects of the cultural intellectual creativity of Sephardic-Oriental rabbis in modern times. The text has three sections: Iraq, Syria, and Egypt, and each section discusses a range of original sources that reflect and represent the creativity of major rabbinic figures in these countries. The contents of the writings of these Sephardic rabbis challenge many commonly held views regarding Judaism's responses to modern challenges. By bringing an additional, non-Western voice into the intellectual arena, this book enriches the field of contemporary discussions regarding the present and future of Judaism. In addition, it focuses attention on the fact that not only was Judaism a Middle Eastern phenomenon for most of its existence but that also in recent centuries important and interesting aspects of Judaism developed in the Middle East. Both Jews and non-Jews will be enriched and challenged by this non-Eurocentric view of modern Judaic creativity.
About the Author
Zvi Zohar is Chauncey Stillman Professor of Sephardic Law and Ethics at Bar Ilan University, where he teaches in the Faculty of Law and the Faculty of Jewish Studies. At the Shalom Hartman Institute, Prof. Zohar heads the Alan A. and Loraine Fischer Family Center for Contemporary Halakha. He has published over 60 scholarly articles in Hebrew, English and French, as well as several book-length studies in Hebrew, including: Tradition and Change: Halakhic Responses of Middle Eastern Rabbis to Legal and Technological Change; The Luminous Face of the East - Studies in the Legal and Religious Thought of Sephardic Rabbis of the Middle East; and A Socio-Cultural Drama in Aleppo in the French Mandatory Period. His previous publication with Continuum [written with Avi Sagi] is Transforming Identity, on the history and development of Judaic norms concerning conversion.