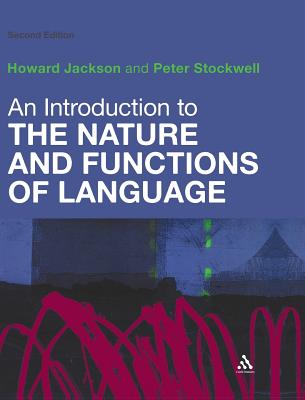 An Introduction to the Nature and Functions of Language
Hardcover

* Individual store prices may vary.
Other Editions of This Title:
Paperback (11/25/2010)
Description
This is a comprehensive guide to the nature of language and an introduction to linguistic analysis. This is a brand new edition of "An Introduction to the Nature and Functions of Language", the bestselling English Language textbook. With comprehensive coverage of the nature of language and linguistic analysis, this book is perfect for those studying language for the first time. Topics covered include discourse analysis, language acquisition, language change and the history of English, together with examinations of different modes of discourse as well as the components of language itself. The book features chapter summaries, study questions and case studies alongside suggestions for project work and extended study. The understanding of the topics is aided by a glossary of terms and a bibliography. There is also a Companion Website with student and lecturer resources. Originally published in 1996, and now fully revised, this core text has been used by thousands of students studying English Language. It is an accessible and engaging guide to the basics of language and linguistics for students on A and AS-level courses as well as being perfect those on their first year at undergraduate level on Language or Linguistics courses.

"Aiming at the introductory level, An Introduction to the Nature and Functions of Language (now in a fully revised 2nd edition) provides a state-of-the-art survey of the core concepts and key terms in language & linguistics. It helps students gain expertise and analytical skills in various branches of the discipline, offering numerous valuable didactic tools like study questions, chapter summaries, a comprehensive glossary as well as a useful bibliography. This book is among the most accessible and entertaining introductions for students of language and linguistics currently available. I highly recommend it both as a coursebook and for self-study purposes." - Reinhard Heuberger, Associate Professor, Department of English, University of Innsbruck, Austria

"This fully revised edition of An Introduction to the Nature and Functions of Language is a highly accessible and authoritative introduction to the analysis of language. While assuming no specialist knowledge, the book systematically sets out the key issues in English language linguistics to offer students a comprehensive guide to the field. Within its chapters the reader will find clear and well-written accounts of the ways language is studied, how it is acquired and learnt, and it changes over time and varies between different social groups, and how it is used in a range of contexts. There are review exercises, case studies, copious examples and a useful glossary, all of which make the book extremely useful to anyone beginning the study of language." - Ken Hyland, Director, Centre for Applied English Studies and Chair of Applied Linguistics, The University of Hong Kong, Hong Kong
Bloomsbury Publishing PLC, 9781441143730, 256pp.
Publication Date: January 31, 2011
About the Author
Howard Jackson is Professor of English Language and Linguistics at the School of English at Birmingham City University, UK, where he has taught descriptive linguistics for over thirty years. Peter Stockwell is Professor of Literary Linguistics at the University of Nottingham, UK