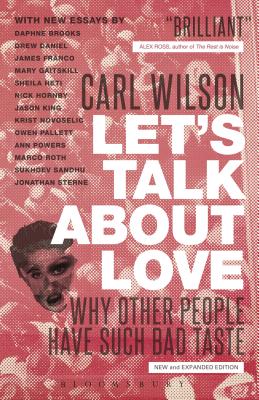 Let's Talk about Love
Why Other People Have Such Bad Taste
Paperback

* Individual store prices may vary.
Description
For his 2007 critically acclaimed 33 1/3 series title, Let's Talk About Love, Carl Wilson went on a quest to find his inner C line Dion fan and explore how we define ourselves by what we call good and bad, what we love and what we hate.
At once among the most widely beloved and most reviled and lampooned pop stars of the past few decades, C line Dion's critics call her mawkish and overblown while millions of fans around the world adore her huge pipes and even bigger feelings. How can anyone say which side is right? This new, expanded edition goes even further, calling on thirteen prominent writers and musicians to respond to themes ranging from sentiment and kitsch to cultural capital and musical snobbery. The original text is followed by lively arguments and stories from Nick Hornby, Krist Novoselic, Ann Powers, Mary Gaitskill, James Franco, Sheila Heti and others. In a new afterword, Carl Wilson examines recent cultural changes in love and hate, including the impact of technology and social media on how taste works (or doesn't) in the 21st century.
Praise For Let's Talk about Love: Why Other People Have Such Bad Taste…
Like the whole world, I'm a fan of Carl Wilson's Celine Dion book. – Jonathan Lethem An evergreen classic of music criticism--a love letter from a cerebral pop aesthete to the music he sincerely, almost sentimentally hates. – Rob Sheffield Carl Wilson is a profound listener and an extraordinary writer. Along with being a tremendously important piece of criticism, Let's Talk About Love is an agile, moving, and generous exploration of the music that accompanies us, welcome or not, on the travels we all need to make on our own. It is a beautiful, funny, unerringly concise book that invites repeated readings, new conversations, and a thoughtful engagement with the culture of our time. – John K. Samson
"The book is laugh-out-loud funny, whip-smart about contemporary thought, and fascinating in its many voices, but, readers, beware—you may wind up humming that song for days afterward." – Eloise Kinney, Booklist"[I]t's a conversation worth having: as a dialogue between Wilson and his 13 disciples, with peers in social circles, and ultimately with oneself. Why we like what we like is always a fun topic to discuss, but it's often more challenging and more enlightening to discuss the converse: why we don't like what we don't like… Any investigation into cool is incomplete without due consideration of too-cool-for. Wilson has provided a primer for that discourse." – Kurtt Gottshalk, Brooklyn Rail
Bloomsbury Academic, 9781441166777, 320pp.
Publication Date: March 13, 2014
About the Author
Carl Wilson is a writer and editor at The Globe and Mail, Canada's national newspaper, and his work also has appeared in Pitchfork, Slate, The New York Times, Blender and many other publications. His pieces were selected for two of Da Capo Books' annual Best Music Writing collections, in 2002 and 2007, by guest editors Jonathan Lethem and Robert Christgau. He runs the popular music blog Zoilus.com and is part of the team behind Trampoline Hall, Toronto's acclaimed nightclub series of lectures by non-experts, which toured America in 2002.