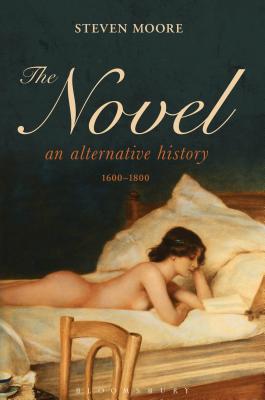 The Novel
An Alternative History, 1600-1800
Hardcover

* Individual store prices may vary.
Other Editions of This Title:
Paperback (10/27/2011)
Paperback (10/31/2019)
Description

Winner of the Christian Gauss Award for excellence in literary scholarship from the Phi Beta Kappa Society
Having excavated the world's earliest novels in his previous book, literary historian Steven Moore explores in this sequel the remarkable flowering of the novel between the years 1600 and 1800--from
Don Quixote
to America's first big novel, an homage to Cervantes entitled
Modern Chivalry
. This is the period of such classic novels as
Tom Jones, Candide
, and
Dangerous Liaisons
, but beyond the dozen or so recognized classics there are hundreds of other interesting novels that appeared then, known only to specialists: Spanish picaresques, French heroic romances, massive Chinese novels, Japanese graphic novels, eccentric English novels, and the earliest American novels. These minor novels are not only interesting in their own right, but also provide the context needed to appreciate why the major novels were major breakthroughs. The novel experienced an explosive growth spurt during these centuries as novelists experimented with different forms and genres: epistolary novels, romances, Gothic thrillers, novels in verse, parodies, science fiction, episodic road trips, and family sagas, along with quirky, unclassifiable experiments in fiction that resemble contemporary, avant-garde works. As in his previous volume, Moore privileges the innovators and outriders, those who kept the novel novel. In the most comprehensive history of this period ever written, Moore examines over 400 novels from around the world in a lively style that is as entertaining as it is informative. Though written for a general audience,
The Novel, An Alternative History
also provides the scholarly apparatus required by the serious student of the period. This sequel, like its predecessor, is a zestfully encyclopedic, avidly opinionated, and dazzlingly fresh history of the most 'elastic' of literary forms (
Booklist
).
Praise For The Novel: An Alternative History, 1600-1800…
"In this second volume of his ambitious study on the novel, Moore cheekily continues his deconstruction of classic works from the medium's most formative centuries… Mischievous humor and a range of contemporary references are often the sugar to Moore's dense analytical medicine: The 40-Year-Old Virgin comes up in the section on Don Quixote, Pat Benatar makes an appearance as well. Refusing to simply connect the dots between canonized works, Moore chooses instead to catalog the 'hundreds of little-known novels that not only provide context for [a] dozen or so classics, but are interesting in their own right.' It's this rigorous aim that gives the book velocity. This is a must-read for those interested in studying the novel's long evolution from less traditional angles." - Publisher's Weekly
"[A]s one reads deeper in
The Novel: An Alternative History, 1600–1800
there is the frankly terrible realization that English-only readers have missed out on so much worthwhile writing from two hundred creative years. A new line of (alternative) classics could be drawn from this book and its predecessor, replacing the tired wares seen repeatedly in stores, especially at Christmas…If there is one daring enough to present a truly panoramic set of works from Ancient Egypt to early nineteenth-century America, the logical choice as general editor is at hand." – Jeff Bursey,
musicandliterature.org
 "Moore offers a second volume in his personal revaluation of the novel as a global phenomenon (the first volume – CH, Dec'10, 48-1895 – covered the years from 'beginnings' to 1600). And a doorstopper of a book it is. The book's five chapters look at the European novel (books in Spanish, German, and Latin), the novel in French, the Eastern novel (Chinese, Korean, Japanese, Tibetan, Persian, and Indian works), the novel in English (by anyone in the British Isles who wrote novels in English), and the American novel (a spare 42 pages). Moore's tone is irreverent: he often takes traditionalists to task, pointing out prurient details of books in bald detail (Marquis de Sade gets more attention than Daniel Defoe). Moore is not a completist – his treatment of the pre-1800 English Gothic runs less than 20 pages, whereas
Horror Literature: A Core Collection and Reference Guide
, ed. By Marshall Tymn (CH, Jan'82), lists 300 titles that qualify for consideration. Moores' greates talent is dusting off obscure works, placing them in the context of standard classics, and locating the most entertaining parts of whatever he considers.
Summing Up:
Recommended. Lower- and upper-division graduates, with supervision; general readers." – M.J. Emery, Cottey College,
CHOICE
Bloomsbury Academic, 9781441188694, 1024pp.
Publication Date: August 29, 2013
About the Author
Steven Moore (Ph.D. Rutgers, 1988) is the author of several books and essays on modern literature. From 1988 to 1996 he was managing editor of the Review of Contemporary Fiction/Dalkey Archive Press, and for decades he has reviewed books for a variety of journals and newspapers, principally The Washington Post. He lives in Ann Arbor, Michigan.
or
Not Currently Available for Direct Purchase