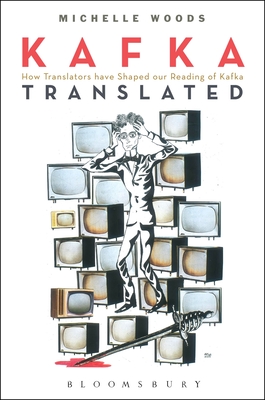 Kafka Translated
How Translators Have Shaped Our Reading of Kafka
Paperback

* Individual store prices may vary.
Description
Kafka Translated is the first book to look at the issue of translation and Kafka's work. What effect do the translations have on how we read Kafka? Are our interpretations of Kafka influenced by the translators' interpretations? In what ways has Kafka been 'translated' into Anglo-American culture by popular culture and by academics?
Michelle Woods investigates issues central to the burgeoning field of translation studies: the notion of cultural untranslatability; the centrality of female translators in literary history; and the under-representation of the influence of the translator as interpreter of literary texts. She specifically focuses on the role of two of Kafka's first translators, Milena Jesensk and Willa Muir, as well as two contemporary translators, Mark Harman and Michael Hofmann, and how their work might allow us to reassess reading Kafka. From here Woods opens up the whole process of translation and re-examines accepted and prevailing interpretations of Kafka's work.
Praise For Kafka Translated: How Translators Have Shaped Our Reading of Kafka…
This is a smart, timely, well-informed book that addresses, with a delightful polemical edge, some long-unexamined aspects of translation. Michelle Woods—Irish and Czech—connects so-called 'mistakes' in the translation of Kafka's novels and stories to intentions arising from the cultural history of the translator, with a real gain of understanding. In accurate, original, spirited prose, on the strength of erudite and witty close readings of Kafka's works, Woods explores the relation of text, translation, and translator in captivating new ways. - Stanley Corngold, Professor Emeritus of German and Comparative Literature, Princeton University, USA, and highly acclaimed translator of Franz Kafka's Metamorphosis and Kafka's Selected Stories.
 A highly complex and thoughtful 'story' that covers both the issues of translating and domesticating Franz Kafka into Czech and English. Insightful in theoretical framing and rich in contextual background material, it offers an original and comprehensive interpretation of Kafka. Delving deep into Kafka's fiction, which is accessible to any reader, Michelle Woods unveils the stories behind the texts through a dialogical reading that unfolds like a perfect detective story. - Petr A. Bilek, Professor of Modern Czech Literature, Charles University in Prague, Czech Republic
 This is a book on interpretation, reception, adaptation, understanding, and reading Kafka. It is also a book on multilingualism and gender in Kafka. All this makes it an excellent book on translation. In highly readable prose, Michelle Woods accompanies the reader in an original 'under the skin' biographical narration of four important Kafka translators: their stories illustrate remarkably the complex mechanisms of translation: how life, experience, love, are so decisive in a translator's work and choices. At the same time they show how material and cultural pressures condition translators in their work. This is a ground-breaking volume that demonstrates how our readings—and not only of Kafka—are results of a complex interrelation of 'rewritings', be they narrations, critique, film adaptations, or translations.  - Siri Nergaard, Professor of Translation Theory, University of Bologna, Italy, and Editor-in-Chief of Translation.
 Kafka Translated, as an intelligent and sensible study of Kafka´s work through the lens of some of its translations, elegantly dismounts some traditionally accepted views in contemporary Kafka criticism and in the field of translation studies. Showing  the crucial role played by translations and translators in our (even not specialized) understanding of Kafka´s texts, Michelle Woods´ close analysis of Kafka's writing highlights the aporetical questions translation poses as a cultural and historically determined hermeneutical practice. Woods´ book is now an indispensable reading both in the field of contemporary literary criticism and translation studies. - Susana Kampff Lages, Professor of German and Comparative Literature, Universidade Federal Fluminense, Rio de Janeiro, Brazil, and Brazilian translator of Kafka´s Amerika/The man who disappeared
Bloomsbury Academic, 9781441197719, 304pp.
Publication Date: November 7, 2013
About the Author
Michelle Woods is Assistant Professor of English at The State University of New York, New Paltz, USA. Previously she was Director of the Centre for Translation and Textual Studies at Dublin City University, Republic of Ireland. She is the author of Translating Milan Kundera (2006) and Censoring Translation: Censorship, Theatre, and the Politics of Translation (2012).
or
Not Currently Available for Direct Purchase