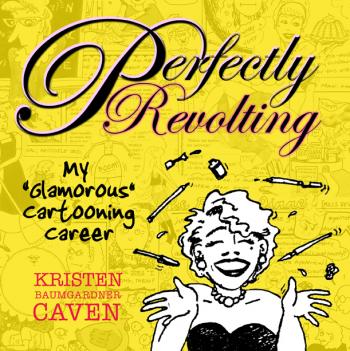 Perfectly Revolting (Paperback)
My Glamorous Cartooning Career
CreateSpace, 9781441415431, 156pp.
Publication Date: February 1, 2010
* Individual store prices may vary.
Description
In 1990, the Berlin Wall fell and Romanians overthrew their government. The students of Mills College in Oakland, California also staged a revolt, successfully persuading the administration to reverse their decision to admit men to the prestigious women's college. To commemorate this stirring event, former campus cartoonist Kristen Caven has compiled her award-winning (and briefly banned) "cartoon history" with over a hundred of her other comics and illustrations. Woven through the pictures is an unusual and enjoyable memoir in which the author explores her own artistic rebelliousness, and her personal revolution from a naîve student to a strong and (seemingly) wise woman. PERFECTLY REVOLTING shares many layers of Caven's story: a girl's search to find her feminine identity in a world defined by men; the joys of an intellectual reveling in (and the frustrations of a smart-ass chafing at) the confines of academia; the challenge of finding her voice as an artist; and the quest to find her place in an industry geared toward 14-year-old boys. Caven's narrative illuminates the controversy surrounding her "Men of Mills College Pin-up Calendar," and the origins of her delightfully irreverent "Sammy Sperm and Emily Egg" paper dolls. Caven's cartoons offer a fresh take on gender politics and commentary on life in the Reagan era, as well as a peek into her teeming, twisted, but generally tasteful mind.

"You will love Kristen Caven's book, Perfectly Revolting, if you: a) ever attended a women's college, b) are or ever have been a feminist, c) are or ever have been a 'women's libber,' d) are or ever have been a cartoonist, e) are or ever have been a woman, f) are or ever have been a man, g) were born with a funnybone, or h) all of the above." - Trina Robbins, author of The Brinkley Girls, From Girls to Grrlz, The Great Women Cartoonists.
or
Not Currently Available for Direct Purchase