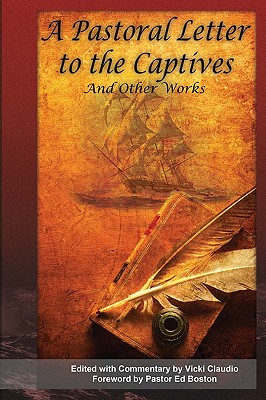 A Pastoral Letter to the Captives, and other works
Selected hostage accounts from the Barbary Pirates era
Paperback

* Individual store prices may vary.
Description
Since its earliest days as a colony, America has found itself at war with Islamic Extremists who have used terror and fear. In A Pastoral Letter to the Captives, and Other Works, you will read personal accounts from those taken captive and an anthology of the works by Cotton Mather preaching to the captives during the Barbary Pirate Era. These historical works take you step by step through the trials and plights of those taken and those left behind, and offer a fresh take on the world around us. A particularly relevant book at a time when America once again struggles overseas with terrorists and an upturn in pirate activities, A Pastoral Letter offers readers a comprehensive, sometimes forgotten look at the issues we are facing through the eyes of history and faith.
Createspace Independent Publishing Platform, 9781441417930, 154pp.
Publication Date: May 28, 2009
About the Author
Vicki Claudio founded Pray for the Hostages in 2008, after writing about piracy and hostage issues for several years. She has a B.A. in Liberal Studies from the University of Central Florida and is pursuing a graduate degree in History from UCF. Ms. Claudio presently serves as Editorial Director for the As A Matter of Faith online ministry. She is married with four children, and lives in Orlando, Florida.