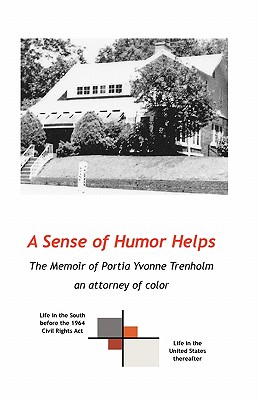 A Sense of Humor Helps (Paperback)
The Memoir of Portia Yvonne Trenholm
Createspace Independent Publishing Platform, 9781441471635, 366pp.
Publication Date: April 8, 2009
* Individual store prices may vary.
Description
Life in the South before the 1964 Civil Rights Act; Life in the United States thereafter. This book is an autobiography of an African American lawyer, teacher, college professor and administrator and writer who is the daughter of a college president in the south; describes racial discrimination in Alabama during the period 1932 -1951 and discrimination in the author's career activities in the United States thereafter; paints a vivid picture of a middle class African American family in the South during the 1930s through 1950s; describes the author's ancestors - educators in Alabama from the early 1900s through 1962 educated at The University of Chicago; life on the Alabama State University campus before integration; work as a Fortune 500 attorney; discrimination in the legal profession in the United States; and affirmative action in actuality.
About the Author
Portia Yvonne Trenholm is an African American native of Montgomery, Alabama, the Cradle of the Confederacy. She grew up during the 1930s and 1940s on the campus of Alabama State College, a predominately black institution led by her father, the late Dr H. Councill Trenholm, Sr. Encounters with racial segregation hidden in crevices of her unconscious, she grew up with a secure self-confidence nurtured by a caring family, masterful teachers and neighbors in the village of her youth. The world seemed almost perfect until she boarded a train for graduate school in the north. There, racism on its face or just below the surface became almost a daily occurrence. After facing a slammed door upon embarking on her chosen career, fashion merchandising, she persevered through teaching all grade levels in two public school systems, became a legal secretary, attended law school, became a Fortune 500 attorney, law professor and university administrator and received accolades as a published author. Her monumental inner security, intellectual curiosity, superior academic achievement and her family's tradition of excellence allowed her to survive and thrive for over six decades in the face of segregation, racism and discrimination. Her secret weapon for survival was simple - a sense of humor.