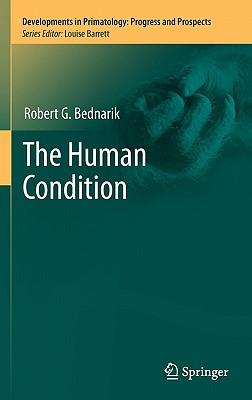 The Human Condition (Developments in Primatology
Progress and Prospects)
Hardcover

* Individual store prices may vary.
Other Editions of This Title:
Paperback (8/15/2013)
Description
This book summarizes the work of several decades, culminating in a revolutionary model of recent human evolution. It challenges current consensus views fundamentally, presenting in its support a mass of evidence, much of which has never been assembled before. This evidence derives primarily from archaeology, paleoanthropology, genetics, clinical psychology, neurosciences, linguistics and cognitive sciences. No even remotely similar thesis of recent human origins has ever been published, but some of the key elements of this book have been published by the author in major refereed journals in the last two years. Its implications are far-reaching and profoundly affect the way we perceive ourselves as a species. This book about what it means to be human is heavily referenced, with a bibliography of many hundreds of scientific entries.
Springer, 9781441993526, 207pp.
Publication Date: July 1, 2011
About the Author
Robert G. Bednarik, born in Vienna but an Australian since 1970, contradicts norms. He has undertaken numerous expeditions crossing the sea on rafts built with stone tools, but he cannot swim; he has produced 1165 academic publications, including many books, but has no formal education; he edits three scientific journals and two series of monographs, but not in his native language. As a complete autodidact, he regards himself as ignorant as did Socrates. Consequently his principal interest is the origin of the human ability to create constructs of reality, and in a wide variety of fields providing supplementary information in that quest.