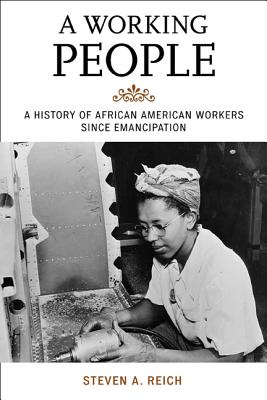 A Working People: A History of African American Workers Since Emancipation (Hardcover)
A History of African American Workers Since Emancipation
Rowman & Littlefield Publishers, 9781442203327, 231pp.
Publication Date: September 12, 2013
Description
In this book, historian Steven A. Reich examines the economic, political and cultural forces that have beaten and built America's black workforce since Emancipation. From the abolition of slavery through the Civil Rights Movement and Great Recession, African Americans have faced a unique set of obstacles and prejudices on their way to becoming a productive and indispensable portion of the American workforce. Repeatedly denied access to the opportunities all Americans are to be afforded under the Constitution, African Americans have combined decades of collective action and community mobilization with the trailblazing heroism of a select few to pave their own way to prosperity. This latest installment of the African American History Series challenges the notion that racial prejudices are buried in our nation's history, and instead provides a narrative connecting the struggles of many generations of African American workers to those felt the present day. Reich provides an unblinking account of what being an African American worker has meant since the 1860s, alluding to ways in which we can and must learn from our past, for the betterment of all workers, however marginalized they may be. A Working People: A History of African American Workers Since Emancipation is as factually astute as it is accessibly written, a tapestry of over 150 years of troubled yet triumphant African American labor history that we still weave today.
About the Author
Steven A. Reich (PhD, Northwestern) is associate professor of history at James Madison University and the editor of the three-volume Encyclopedia of the Great Black Migration.
Advertisement