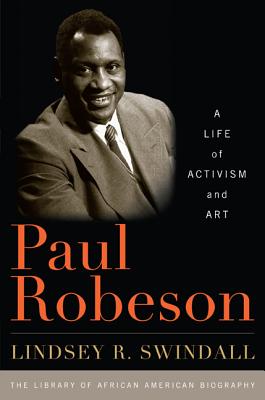 Paul Robeson
A Life of Activism and Art (Library of African American Biography)
Hardcover

* Individual store prices may vary.
Other Editions of This Title:
Paperback (9/15/2015)
Description
Paul Robeson: A Life of Activism and Art is the biography of an African American icon and a demonstration of historian Lindsey R. Swindall's knack for thorough, detailed research and reflection. Paul Robeson was, at points in his life, an actor, singer, football player, political activist and writer, one of the most diversely talented members of the Harlem Renaissance. Swindall centers Robeson's story around the argument that while Robeson leaned toward Socialism, a Pan-African perspective is fundamental to understanding his life as an artist and political advocate. Many previous works on Robeson have focused primarily on his involvement with the US Communist Party, paying little attention to the broader African influences on his politics and art. With each chapter focused on a decade of his life, this book affords us a fresh look at his story, and the ways in which the struggles, successes and studies of his formative years came to shape him as an artist, activist and man later on. Robeson's story is one not simply of politics and protest, but of a man's lifelong evolution from an athlete to an entertainer to an indispensible man of letters and African American thought. Swindall neatly outlines the events of Robeson's life in a way that freshly presents him as a man whose work was influenced by more than just his circumstances, but by a spirit rooted in dedication to the African's place in American art and politics.
Rowman & Littlefield Publishers, 9781442207936, 212pp.
Publication Date: February 7, 2013
About the Author
Lindsey R. Swindall earned her doctorate in Afro-American Studies at the University of Massachusetts, Amherst, and is a teaching assistant professor in the College of Arts and Letters at Stevens Institute of Technology in Hoboken, New Jersey. She has also written: The Politics of Paul Robeson's Othello and The Path to the Greater, Freer, Truer World: Southern Civil Rights and Anticolonialism, 1937-1955. She is co-editor of American Appetites: A Documentary Reader.