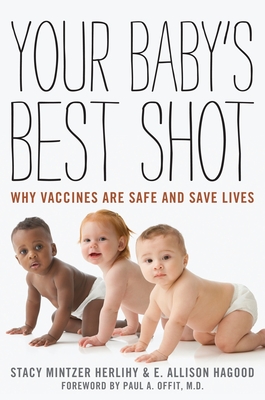 Your Baby's Best Shot (Hardcover)
Why Vaccines Are Safe and Save Lives
Rowman & Littlefield Publishers, 9781442215788, 220pp.
Publication Date: August 9, 2012
Other Editions of This Title:
Paperback (1/30/2015)
* Individual store prices may vary.
Description
Parents can easily be bombarded by conflicting messages about vaccines a dozen times each week. One side argues that vaccines are a necessary public health measure that protects children against dangerous and potentially deadly diseases. The other side vociferously maintains that vaccines are nothing more than a sop to pharmaceutical companies, and that the diseases they allegedly help prevent are nothing more than minor annoyances. An ordinary parent may have no idea where to turn to find accurate information. Your Baby's Best Shot is written for the parent who does not have a background in science, research, or medicine, and who is confused and overwhelmed by the massive amount of information regarding the issue of child vaccines. New parents are worried about the decisions that they are making regarding their children's health, and this work helps them wade through the information they receive in order to help them understand that vaccinating their child is actually one of the simplest and smartest decisions that they can make. Covering such topics as vaccine ingredients, how vaccines work, what can happen when populations don't vaccinate their children, and the controversies surrounding supposed links to autism, allergies, and asthma, the authors provide an overview of the field in an easy to understand guide for parents. In an age when autism diagnoses remain on the rise, when a single infectious individual can help spark an epidemic in three countries, when doctors routinely administer an often bewildering array of shots, and when parents swear their babies were fine until their first dosage of the MMR, the authors hope this book will serve as a crucial resource to help parents understand this vitally important issue.
About the Author
Stacy Mintzer Herlihy is a freelance writer. Her work has appeared in many publications including Big Apple Parent Magazine and USA Today. E. Allison Hagood is a psychology professor at a community college in Colorado. Before becoming a professor, she was a clinician and researcher specializing in adults with severe mental illnesses. She is a member of the American Psychological Association, the Association for Psychological Science, and the Society for the Teaching of Psychology. Foreword author Paul A. Offit, MD, FAAP, is the chief of Infectious Diseases and the director of the Vaccine Education Center at The Children's Hospital of Philadelphia, as well as the Maurice R. Hilleman Professor of Vaccinology and professor of pediatrics at the University of Pennsylvania School of Medicine. He has published several books including Vaccinated: One Man's Quest to Defeat the World's Deadliest Diseases and Deadly Choices: How the Anti-Vaccine Movement Threatens Us All.
or
Not Currently Available for Direct Purchase