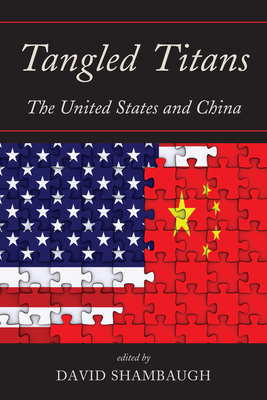 Tangled Titans
The United States and China
Paperback

* Individual store prices may vary.
Other Editions of This Title:
Hardcover (8/9/2012)
Description
Tangled Titans offers a current and comprehensive assessment of the most important relationship in international affairs-that between the United States and China. How the relationship evolves will have a defining impact on the future of world politics, the Asian region, and the citizens of many nations. In this definitive book, leading experts provide an in-depth exploration of the historical, domestic, bilateral, regional, global, and future contexts of this complex relationship. The contributors argue that the relationship is a unique combination of deep interdependence, limited cooperation, and increasing competition. Never in modern history have two great powers been so deeply intertwined-yet so suspicious and potentially antagonistic toward each other. Exploring this cooperative and competitive dynamic, the contributors offer a wealth of detail on contemporary Sino-American relations unavailable elsewhere. Students will find Tangled Titans essential reading to understand the current dynamics and future direction of relations between the world's two most important powers. Contributions by: Rosemary Foot, Charles W. Freeman III, Bonnie S. Glaser, Avery Goldstein, Yufan Hao, Harry Harding, G. John Ikenberry, Terry Lautz, Dawn Murphy, Shelley Rigger, David Shambaugh, Robert Sutter, Ashley J. Tellis, Nancy Bernkopf Tucker, Christopher P. Twomey, and Wu Xinbo.
Rowman & Littlefield Publishers, 9781442219700, 454pp.
Publication Date: August 9, 2012
About the Author
David Shambaugh is professor of political science and international affairs and director of the China Policy Program at The George Washington University. He is also nonresident senior fellow in the Foreign Policy Studies Program at The Brookings Institution.