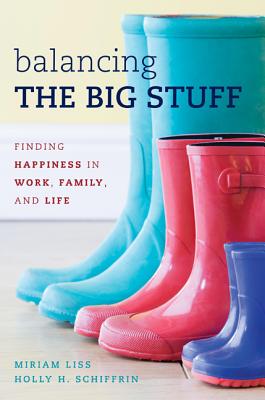 Balancing the Big Stuff (Hardcover)
Finding Happiness in Work, Family, and Life
Rowman & Littlefield Publishers, 9781442223356, 264pp.
Publication Date: August 7, 2014
* Individual store prices may vary.
Description
While the current conversation about work-family balance and "having it all" tends to focus on women, both men and women are harmed when conditions make it impossible to balance meaningful work with family life. Yet, both will benefit from re-evaluating what it means to have it all and fighting for changes in their relationships and society to make greater equality possible. Here, Miriam Liss and Holly Hollomon Schiffrin discuss the ways in which we all define "having it all" and how we can obtain it for ourselves through a better evaluation of what we want from ourselves, our families, our jobs, and each other. Determining a 50/50 division of labor around the house may not be the thing that works for everyone. Working from home or not at all may not be the thing to bring us satisfaction, but learning what studies show and how to feel balanced and make those decisions to bring balance is crucial. The authors argue that people can find balance in their roles by doing things in moderation. Although being engaged in both parenting and work is good for well-being, people can avoid the pitfalls of over-parenting and over-working. They show that balance can come from a meaningful consideration of what happiness and contentedness mean to us as individuals, and how best to achieve our goals within the limitations of our current circumstances. They illustrate that balance is not simply an individual problem. Social issues such as the lack of parental leave, flexible work schedules, and affordable, high quality child care make balance difficult. With attention now on the issue, they argue that it's time men and women advocate for better services and better opportunities to achieve balance, happiness, and success in all their roles.
About the Author
Miriam Liss is professor of psychology at the University of Mary Washington. She is a clinical psychologist and is widely published in the areas of feminism, division of labor, and parenting as well as in the areas of autism and developmental disorders. Her articles have been published in numerous psychology journals including Psychology of Women Quarterly, Sex Roles, Journal of Child and Family Studies, Autism, and the Journal of Personality and Individual Differences. She has also presented her research at the American Psychological Association and Association for Psychological Science meetings. She has been interviewed for her work on intensive and attachment parenting for the Washington Post, MSNBC.com, and Live Science. She was recently named one of Princeton Review's Best 300 Professors. Holly H. Schiffrin, associate professor of psychology at the University of Mary Washington, specializes in child development, parenting practices, and early intervention. She has had several articles published in professional journals. In addition, she has given numerous presentations at conferences. Schiffrin recently served as president of the Virginia Academic and Applied Psychologist Academy of the Virginia Psychological Association. She has been interviewed about her research on several radio programs across the nation as well as interviewed for articles on parenting and well-being in Time.com, various newspapers, and local parenting magazines.
or
Not Currently Available for Direct Purchase