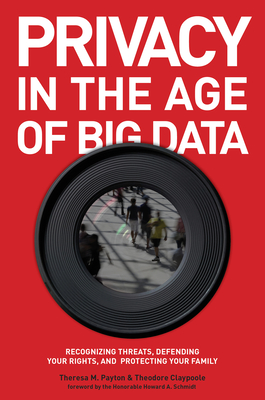 Privacy in the Age of Big Data: Recognizing Threats, Defending Your Rights, and Protecting Your Family (Hardcover)
Recognizing Threats, Defending Your Rights, and Protecting Your Family
Rowman & Littlefield Publishers, 9781442225459, 259pp.
Publication Date: January 16, 2014
Description
Digital data collection and surveillance gets more pervasive and invasive by the day; but the best ways to protect yourself and your data are all steps you can take yourself. The devices we use to get just-in-time coupons, directions when we're lost, and maintain connections with loved ones no matter how far away they are, also invade our privacy in ways we might not even be aware of. Our devices send and collect data about us whenever we use them, but that data is not safeguarded the way we assume it would be. Privacy is complex and personal. Many of us do not know the full extent to which data is collected, stored, aggregated, and used. As recent revelations indicate, we are subject to a level of data collection and surveillance never before imaginable. While some of these methods may, in fact, protect us and provide us with information and services we deem to be helpful and desired, others can turn out to be insidious and over-arching. Privacy in the Age of Big Data highlights the many positive outcomes of digital surveillance and data collection while also outlining those forms of data collection to which we may not consent, and of which we are likely unaware. Payton and Claypoole skillfully introduce readers to the many ways we are 'watched, ' and how to adjust our behaviors and activities to recapture our privacy. The authors suggest the tools, behavior changes, and political actions we can take to regain data and identity security. Anyone who uses digital devices will want to read this book for its clear and no-nonsense approach to the world of big data and what it means for all of us.
About the Author
Theresa Payton is one of America's most respected authorities on Internet security, net crime, fraud mitigation, and technology implementation. As White House Chief Information Officer from 2006 to 2008 -- the first woman ever to hold that position -- she administered the information technology enterprise for the President and 3,000 staff members. Prior to working in federal government, Payton held executive roles in banking technology at Bank of America and Wells Fargo. Payton is the founder of Fortalice, LLC, a security, risk, and fraud consulting company. In 2010, she was named by Security Magazine as one of the top 25 "Most Influential People in Security." She, also, serves as a cyber-expert for the syndicated program America Now and is co-author of Protecting Your Internet Identity: Are You Naked Online? (Rowman & Littlefield, 2012). Theodore Claypoole is a technology attorney and is currently cochair of the Cyberspace Mobile Commerce Subcommittee for the American Bar Association's Business Law Section. Ted is the author of chapters in published books on biometrics and data security, as well as several articles on Internet security and Internet law. He is currently leader of the Privacy and Data Management team at the law firm Womble Carlyle. He leads data breach incident response teams in the financial, information processing, retail, and software industries. Ted consults on information security, privacy, consumer data treatment, and contingency planning matters, and advises clients on strategic technology and marketing alliances. Ted was previously the in-house technology and Internet counsel for CompuServe and Bank of America.
Advertisement