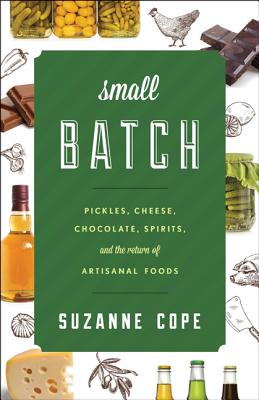 Small Batch
Pickles, Cheese, Chocolate, Spirits, and the Return of Artisanal Foods (Rowman & Littlefield Studies in Food and Gastronomy)
Hardcover

* Individual store prices may vary.
Description
Artisanal foods are making a comeback as more and more people seek to stock their pantries, and their bellies, with handcrafted or locally grown and made foods. Specialty markets and sections at grocery stores are catering to this new desire for the special, the unique, the carefully made foods. Small Batch: Pickles, Cheese, Chocolate, Spirits and the Return of Artisanal Foods colorfully details the landscape of the newest wave of the artisanal food revolution by looking at four foods that whet our appetites for specialty. Considering the history and the cultural issues surrounding the resurgence of craft food, including the evolving definition of terroir, the importance of narrative in valuing artisanal food, and the way that these present food trends connect with-and upend-their rich history, Small Batch seeks to define and update the term "artisanal" and give insight into the influences, challenges, and identity of food artisans today. Suzanne Cope sumptuously surveys the collective history of the production of cheese, pickles, chocolate, and alcoholic spirits, and brings this narrative to the present by incorporating interviews with over fifty modern artisans. Cope details the influences, challenges, and evolving identity of these modern craft industries-and places them in context within the recent resurgence and growth of the artisanal segment of the market. Readers interested in craft foods, and what it means to be an artisan, will find here a fascinating history and updating of both.
Rowman & Littlefield Publishers, 9781442227347, 244pp.
Publication Date: October 10, 2014
About the Author
Suzanne Cope, is a scholar of food studies and narrative. Recent and upcoming publications include articles and essays in The New York Times, Time.com, XOJane, Italian American Review, Edible Boston, Edible Cape Cod, among others. She lives in Brooklyn and teaches college writing. Additional information can be found at www.suzannecope.com