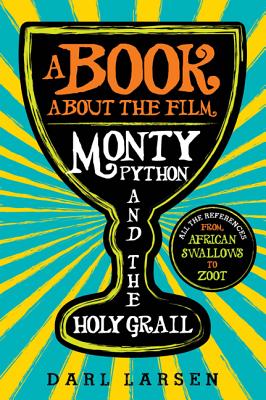 A Book about the Film Monty Python and the Holy Grail
All the References from African Swallows to Zoot
Hardcover

* Individual store prices may vary.
Other Editions of This Title:
Hardcover (2/15/2018)
Hardcover (6/29/2020)
Paperback (9/10/2019)
Paperback (9/19/2019)
Description
Monty Python's Flying Circus aired from 1969 until 1974, but the conclusion of the series did not mark the end of the troupe's creative output. Even before the final original episodes were recorded and broadcast, the six members began work on their first feature-length enterprise of new material. Rather than string together a series of silly skits, they conceived a full-length story line with references to the real and imagined worlds of the mythical King Arthur, the lives of medieval peasants, and the gloomy climate of 1970s Britain. Released in 1975, Monty Python and the Holy Grail was a modest success but has since been hailed as a modern classic. In A Book about the Film Monty Python and the Holy Grail: All the References from African Swallows to Zoot, Darl Larsen identifies and examines the cultural, historical, and topical allusions in the movie. In this entertaining resource, virtually every reference that appears in a scene--whether stated by a character, depicted in the mise-en-sc ne, or mentioned in the print companion--is identified and explained. Beyond the Arthurian legend, entries cover literary metaphors, symbols, names, peoples, and places--as well as the myriad social, cultural, and historical elements that populate the film. This book employs the film as a window to both reveal and examine "Arthurian" life and literature, the historical Middle Ages, and a Great Britain of labor unrest, power shortages, and the common man. Introducing the reader to dozens of medievalist histories and authors and connecting the film concretely to the "modern" British Empire, A Book about the Film Monty Python and the Holy Grail will appeal to fans of the troupe as well as medieval scholars and academics who can laugh at themselves and their work.
Rowman & Littlefield Publishers, 9781442245532, 632pp.
Publication Date: March 16, 2015
About the Author
Darl Larsen is professor in both the Media Arts department and the Center for Animation at Brigham Young University, where he teaches film, animation, screenwriting, and popular culture studies. He is the author of Monty Python, Shakespeare and English Renaissance Drama (2003), Monty Python's Flying Circus: An Utterly Complete, Thoroughly Unillustrated, Absolutely Unauthorized Guide to Possibly All the References (Taylor, 2013), and A Book about the Film Monty Python's Life of Brian: All the References from Assyrians to Zeffirelli (Rowman & Littlefield, 2019).