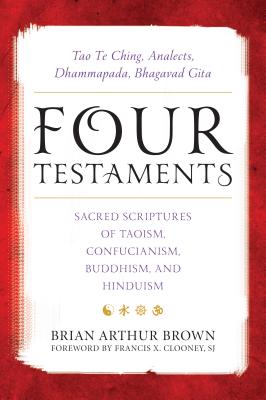 Four Testaments (Hardcover)
Tao Te Ching, Analects, Dhammapada, Bhagavad Gita: Sacred Scriptures of Taoism, Confucianism, Buddhism, and Hinduism
Rowman & Littlefield Publishers, 9781442265776, 496pp.
Publication Date: July 8, 2016
Other Editions of This Title:
Paperback (10/2/2017)
* Individual store prices may vary.
Description
Four Testaments brings together four foundational texts from world religions--the Tao Te Ching, Dhammapada, Analects of Confucius, and Bhagavad Gita--inviting readers to experience them in full, to explore possible points of connection and divergence, and to better understand people who practice these traditions. Following Brian Arthur Brown's award-winning Three Testaments: Torah, Gospel, Quran, this volume of Four Testaments features essays by esteemed scholars to introduce readers to each tradition and text, as well as commentary on unexpected ways the ancient Zoroastrian tradition might connect Taoism, Buddhism, Confucianism, and Hinduism, as well as the Abrahamic faiths. Four Testaments aims to foster deeper religious understanding in our interconnected and contentious world.
About the Author
Brian Arthur Brown is an independent scholar and a United Church of Canada minister. He is the author or editor of several books, including the award-winning Three Testaments: Torah, Gospel, Quran and Noah's Other Son.