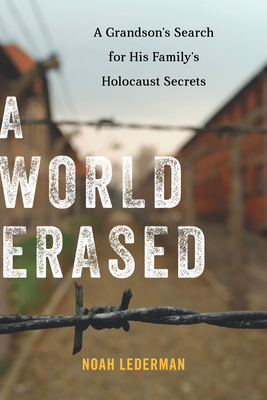 A World Erased
A Grandson's Search for His Family's Holocaust Secrets
Hardcover

* Individual store prices may vary.
Description
This poignant memoir by Noah Lederman, the grandson of Holocaust survivors, transports readers from his grandparents' kitchen table in Brooklyn to World War II Poland. In the 1950s, Noah's grandparents raised their children on Holocaust stories. But because tales of rebellion and death camps gave his father and aunt constant nightmares, in Noah's adolescence Grandma would only recount the PG version. Noah, however, craved the uncensored truth and always felt one right question away from their pasts. But when Poppy died at the end of the millennium, it seemed the Holocaust stories died with him. In the years that followed, without the love of her life by her side, Grandma could do little more than mourn. After college, Noah, a travel writer, roamed the world for fifteen months with just one rule: avoid Poland. A few missteps in Europe, however, landed him in his grandparents' country. When he returned home, he cautiously told Grandma about his time in Warsaw, fearing that the past would bring up memories too painful for her to relive. But, instead, remembering the Holocaust unexpectedly rejuvenated her, ending five years of mourning her husband. Together, they explored the memories--of Auschwitz and a half-dozen other camps, the Warsaw Ghetto Uprising, and the displaced persons camps--that his grandmother had buried for decades. And the woman he had playfully mocked as a child became his hero. I was left with the stories--the ones that had been hidden, the ones that offered catharsis, the ones that gave me a second hero, the ones that resurrected a family, the ones that survived even death. Their shared journey profoundly illuminates the transformative power of never forgetting.
Rowman & Littlefield Publishers, 9781442267435, 256pp.
Publication Date: February 7, 2017
About the Author
Noah Lederman is an award-winning writer whose work has been published in The Economist, the Boston Globe, the Miami Herald, the San Francisco Chronicle, the Philadelphia Inquirer, the Chicago Sun-Times, Slate, Salon, the New Republic, Tablet Magazine, the Jerusalem Post, Tikkun, and elsewhere. He lives on Long Island.
or
Not Currently Available for Direct Purchase