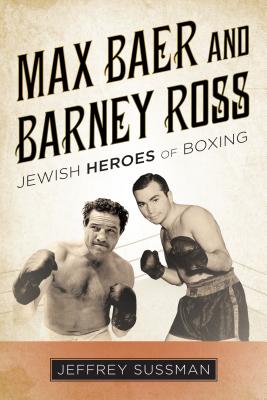 Max Baer and Barney Ross (Hardcover)
Jewish Heroes of Boxing
Rowman & Littlefield Publishers, 9781442269323, 224pp.
Publication Date: November 3, 2016
* Individual store prices may vary.
Description
In the 1920s and 30s, anti-Semitism was rife in the United States and Europe. Jews needed symbols of strength and demonstrations of courage against their enemies, and they found both in two champions of boxing: Max Baer and Barney Ross. Baer was the only Jewish heavyweight champion in the twentieth century, while Ross was considered one of the greatest welterweight and lightweight champions of the era. Although their careers never crossed paths, their boxing triumphs played a common role in lifting the spirits of persecuted Jews. In Max Baer and Barney Ross: Jewish Heroes of Boxing, Jeffrey Sussman chronicles the lives of two men whose successful bouts inside the ring served as inspiration for Jewish fans across the country and around the world. Though they came from very different backgrounds--Baer grew up on his family's ranch in California, while Ross roamed the tough streets of Chicago and was a runner for Al Capone--both would bask in the limelight as boxing champions. Their stories include legendary encounters with such opponents as Jimmy McLarnin (known as the Jew Killer), Max Schmeling (Hitler's favorite athlete), and Primo Carnera (a sad giant controlled and mistreated by gangsters). While recounting the exploits of these two men, the author also paints an evocative picture of boxing and the crucial role it played in an era of anti-Semitism. A vivid and engaging look at these two heroes and the difficult era in which they lived, Max Baer and Barney Ross will appeal to boxing fans, sports historians, and anyone interested in Jewish history.
About the Author
Jeffrey Sussman is the author of ten non-fiction books, as well as numerous articles and short stories about boxing. He is a regular writer for the premier boxing website www.boxing.com. Sussman is the president of a public relations and marketing firm based in New York City (www.powerpublicity.com).
or
Not Currently Available for Direct Purchase