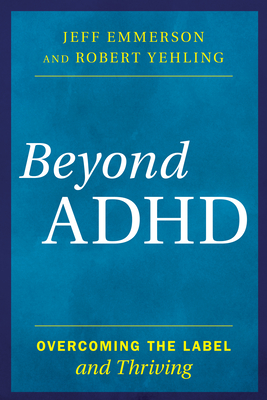 Beyond ADHD (Hardcover)
Overcoming the Label and Thriving
Rowman & Littlefield Publishers, 9781442275102, 280pp.
Publication Date: August 31, 2017
Description
Beyond ADHD weaves Emmerson's personal story of his ADHD diagnosis, exploring along the way the latest medical, scientific and societal explanations and tools for managing and living with the condition. Including interviews with a number of experts at the forefront of next-generation ADHD diagnostics and treatment, he questions the cookie-cutter way ADHD is commonly diagnosed and treated. Suggesting that the list of symptoms often used to identify ADHD can be attributed to many other disorders and conditions, he explores how and why ADHD diagnoses have increased by 50% in the last ten years. Emmerson advocates a different approach to ADHD, arguing that it should be a diagnosis of exclusion rather than the other way around, and that we must look past the label, recognizing that individual symptoms vary and treatment plans should be better tailored to the individual. He examines mental and behavioral issues from all sides, including the possibility that nurturing - rather than trying to alter or suppress - the active, "360-degree" mind is a viable way for those diagnosed with ADHD to realize their gifts and lead purposeful lives.
About the Author
Jeff Emmerson is a mental health advocate, popular video blogger and leading social media figure focused on reframing how we view ADHD, with a passionate mission to prevent mis- and over-diagnoses, and help people whose lives are impacted by the condition. He has more than 400,000 followers on his @IAmJeffEmmerson Twitter account, 15,000+ LinkedIn connections, a large viewership on YouTube, and is currently gaining about 7,500 followers per week. His e-mail list has over 26,000 subscribers. Emmerson is aligned with a number of leading medical, neuroscience and behavioral experts, many of whom are quoted prominently in his book. He's written for EverydayHealth.com, AdditudeMag.com, and AOL Health, and has been interviewed on NPR. Robert Yehling is the author of ten books and ghostwriter of seven others, and is increasingly specializing in titles pertaining to mental health, behavioral and fitness issues. His most recent title, Just Add Water, the biography of autistic surfing great Clay Marzo (2015: Houghton Mifflin Harcourt), has been nominated for the Dorothy Gray Children's Literature Award and an International Book Award. He also works with author Kevin Hines, whose Cracked, Not Broken (2013: Rowman-Littlefield) is revered worldwide for its discussion of bipolar disorder and suicide prevention. Yehling has also edited published titles on traumatic brain injury, post-traumatic stress disorder and autism. Another book on which he provided direct author assistance, Home Sweet Anywhere by Lynn Martin (2014: Sourcebooks), was a bestseller. A professional journalist since 1976, Yehling was the recipient of the 2007 Independent Publishers Book Award for his title, Writes of Life: Using Personal Experiences in Everything You Write. He also has won national awards for his work in magazine journalism, online journalism, website editing, and a Bank of America Liberal Arts Award. Besides writing and editing, Yehling teaches cause-based writing and other topics at writers' conferences and workshops throughout the United States.
Advertisement