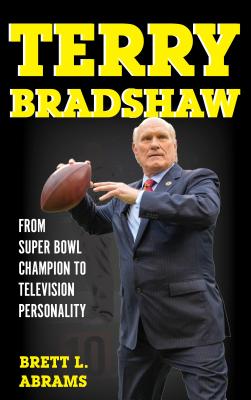 Terry Bradshaw (Hardcover)
From Super Bowl Champion to Television Personality (Sports Icons and Issues in Popular Culture)
Rowman & Littlefield Publishers, 9781442277632, 328pp.
Publication Date: September 8, 2017
* Individual store prices may vary.
Description
Terry Bradshaw made a name for himself as the star quarterback for the Pittsburgh Steelers, winning four Super Bowls and twice earning the MVP award. Beyond his athletic success, Bradshaw has established himself as a true cultural icon through his ventures into television, movies, and music. In Terry Bradshaw: From Super Bowl Champion to Television Personality, Brett L. Abrams details the many personas of this larger-than-life entertainer. Not satisfied with "just" being a star quarterback, Bradshaw became an actor, commercial pitchman, country western and gospel singer, color commentator, and NFL pregame co-host. In addition to covering Bradshaw's life and career, Abrams discusses the stereotypes Bradshaw faced and his ability to turn those preconceived notions into a positive, likeable, "down home" image that enabled him to find success across the entertainment industries. Ultimately, Bradshaw has become not only an iconic sports figure, but a cultural icon, as well. Terry Bradshaw delivers a new and refreshing look at one of football's most-recognized athletes. Drawing on extensive research and interviews with coaches, friends, coworkers, and football fans, this book illuminates Bradshaw's celebrity status in the context of nearly 50 years of interacting with football fans and the larger American pop culture.
About the Author
Brett L. Abrams is archivist of electronic records in Washington, DC. He is a cultural and urban historian whose previous books include Hollywood Bohemians: Transgressive Sexuality and the Selling of the Movieland Dream (2008), Capital Sporting Grounds: A History of Stadium and Ballpark Construction in Washington, D.C. (2009), and The Bullets, the Wizards, and Washington, DC, Basketball (2012).