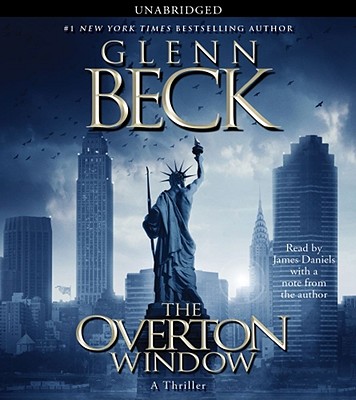 The Overton Window (Compact Disc)
Simon & Schuster Audio, 9781442305243
Publication Date: June 15, 2010
* Individual store prices may vary.
or
Not Currently Available for Direct Purchase
Description
From the New York Times #1 bestselling author of The Christmas Sweater , An Inconvenient Book , Common Sense , and Arguing with Idiots comes a heart-stopping new thriller about the consequences America will soon face if we continue to take our freedoms for granted.
Meet Noah Gardner, a twenty-something public relations executive who seems to have all the makings of a killer eHarmony profile. He's smart, handsome, well educated and, like many in the younger generation, far more concerned about the future of his social life than the future of his country.
But that all changes when Noah meets Molly Ross, a mailroom worker at his company who is consumed by the thought that the America we know is about to be lost forever. Noah doesn't believe much in conspiracy theories, or care much about the day-to-day happenings in Washington, but as events begin to unfold exactly the way Molly predicted, Noah becomes increasingly suspicious.
As the two ruling political parties do their best to keep Americans divided and distracted, a historic terrorist attack shakes the country to its core. As those around him panic, Noah realizes that a master plan to transform America is rapidly unfolding. Exposing that plan, and revealing the conspirators behind it, is the only way to save both the country and woman that he loves.
Seamlessly weaving together American history, frightening facts about America's present condition, and a fast-placed plot, Glenn's new thriller will educate, enlighten, and, most importantly, entertain his fans in a whole new way.
Praise For The Overton Window…
"Glenn Beck has just shattered the fiction barrier. The Overton Window is the perfect all-American thriller."
—Brad Thor, #1 New York Times bestselling author



"A novel ripped from today's headlines and destined to be as controversial as it is eye-opening. No matter your politics, this Hitchcockian thriller will have you turning pages well into the night."
—James Rollins, New York Times bestselling author



"A visionary work of fiction. One of the best thrillers I've read in years."
—Vince Flynn, New York Times bestselling author



"Glenn Beck never fails to amaze. The Overton Window, a rip-roaring read of the first order, is as good a political thriller as you're going to find this year."
—Nelson DeMille, New York Times bestselling author



"From the moment you open Glenn Beck's The Overton Window, you are looking through his eyes -- and like the best thriller writers out there, Glenn knows that the very best way to scare us is to show us what can really happen. Get ready to sleep with the lights on. This is the one. You'll never look at history the same way again." –#1 NYT bestselling author Brad Meltzer
Advertisement