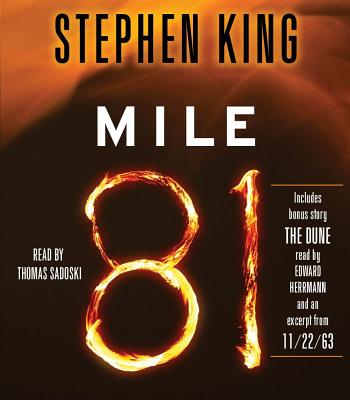 Mile 81 (CD-Audio)
Includes bonus story 'The Dune'
Simon & Schuster Audio, 9781442349131
Publication Date: January 10, 2012
* Individual store prices may vary.
Description
Mile 81 is Stand by Me meets Christine—the story of an insatiable car and a heroic kid.

At Mile 81 on the Maine Turnpike is a boarded-up rest stop, a place where high school kids drink and get into the kind of trouble high school kids have always gotten into. It's the place where Pete Simmons, armed only with the magnifying glass he got for his tenth birthday, finds a discarded bottle of vodka in the boarded up burger shack and drinks enough to pass out. Not much later, a mud-covered station wagon (which is strange because there hadn't been any rain in New England for over a week) veers into the Mile 81 rest area, ignoring the sign that says "closed, no services." The driver's door opens but nobody gets out.
By the time Pete Simmons wakes up from his vodka nap, there are half a dozen cars at the Mile 81 rest stop. But two kids and a horse are the only living things left...unless you maybe count the wagon. With the heart of Stand By Me and the genius horror of Christine, Mile 81 is Stephen King unleashing his imagination as he drives past one of those road signs.
In the bonus story "The Dune," originally published in Granta's October 2011 horror issue, retired Florida Supreme Court Judge Harvey Beecher tells his lawyer about a mysterious sand dune on an unnamed island a short distance off the Gulf coastline of his family's property. Harvey first visited the island at the age of ten in 1932, after his grandfather, a scoundrel and land speculator who'd created the family fortune, told him Blackbeard's treasure might be buried there. Traveling to the island became a daily addiction for Harvey…and now his lawyer is about to discover the shocking reason why.
About the Author
Stephen King is the author of more than fifty books, all of them worldwide bestsellers. His recent work includes Elevation, The Outsider, Sleeping Beauties (cowritten with his son Owen King), the Bill Hodges trilogy End of Watch, Finders Keepers, and Mr. Mercedes (an Edgar Award winner for Best Novel and an AT&T Audience Network original television series). His novel 11/22/63 was named a top ten book of 2011 by The New York Times Book Review and won the Los Angeles Times Book Prize for Mystery/Thriller. His epic works The Dark Tower and It are the basis for major motion pictures, with It now the highest grossing horror film of all time. He is the recipient of the 2018 PEN America Literary Service Award, the 2014 National Medal of Arts, and the 2003 National Book Foundation Medal for Distinguished Contribution to American Letters. He lives in Bangor, Maine, with his wife, novelist Tabitha King.

Edward Herrmann's films include Nixon, The Purple Rose of Cairo, Annie, and The Aviator. On television's Gilmore Girls he starred as the patriarch, Richard Gilmore. He has also appeared on The Good Wife, Law & Order, 30 Rock, Grey's Anatomy, and Oz. He earned an Emmy Award for The Practice, and remains well-known for his Emmy-nominated portrayals of FDR in Eleanor and Franklin and Eleanor and Franklin: The White House Years. On Broadway, he won a Tony Award for his performance in Mrs. Warren's Profession.