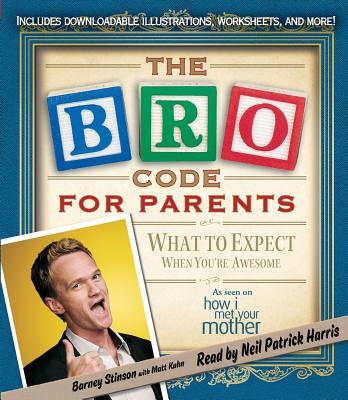 Bro Code for Parents (CD-Audio)
What to Expect When You're Awesome
Simon & Schuster Audio, 9781442359666
Publication Date: October 2, 2012
* Individual store prices may vary.
Description
The newest book in the New York Times bestselling "Barney Stinson" canon teaches prospective parents everything they need to know to have a legendary kid.

"Congratulations!" You're about to have a kid? Well, Bro, you might be asking yourself a series of important questions: Will I ever be able to do awesome things again? Will I be able to afford this? Can I ever have sex again? Will I be a good parent? Am I able to love this child as much as I love my own life? Can I ever have sex again?

Well, the answer to all of these questions is a rock solid "no." But just because your life is now a petrifying turd on the canvas of life doesn't mean your kid has to be as lame as you're about to become. And Barney Stinson is here to help.
About the Author
Barney Stinson is awesome. He works for a powerful bank in New York City but somehow finds time to "suit up" and help the less fortunate, in particular his lovelorn and all together pathetic bro Ted Mosby—seriously, that dude's got probs. When Barney's not staging private bikini calendar shoots, test-driving tanks, or elbow-deep in another legendary activity, like riding a tiger bareback or blowing up a guitar, he can be seen on the hit CBS show How I Met Your Mother with his friends Ted, Robin, Lily, and Marshall.

Matt Kuhn is a staff writer for the CBS hit show How I Met Your Mother and also produces Barney's Blog for the show's website. He lives in Los Angeles, California, which is conveniently where he works.
or
Not Currently Available for Direct Purchase