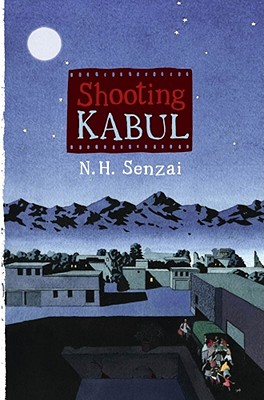 Shooting Kabul (The Kabul Chronicles) (Hardcover)
Simon & Schuster/Paula Wiseman Books, 9781442401945, 272pp.
Publication Date: June 22, 2010
Other Editions of This Title:
Paperback (7/12/2011)
Prebound (7/12/2011)
* Individual store prices may vary.
Description
In the summer of 2001, twelve year old Fadi's parents make the difficult decision to illegally leave Afghanistan and move the family to the United States. When their underground transport arrives at the rendezvous point, chaos ensues, and Fadi is left dragging his younger sister Mariam through the crush of people. But Mariam accidentally lets go of his hand and becomes lost in the crowd, just as Fadi is snatched up into the truck. With Taliban soldiers closing in, the truck speeds away, leaving Mariam behind.

Adjusting to life in the United States isn't easy for Fadi's family and as the events of September 11th unfold the prospects of locating Mariam in a war torn Afghanistan seem slim. When a photography competition with a grand prize trip to India is announced, Fadi sees his chance to return to Afghanistan and find his sister. But can one photo really bring Mariam home?

Based in part on the Ms. Senzai's husband's own experience fleeing his home in Soviet controlled Afghanistan in the 1970s, Shooting Kabul is a powerful story of hope, love, and perseverance.
About the Author
N.H. Senzai is the author of Shooting Kabul, which was critically acclaimed and on numerous award lists. Publishers Weekly called it "hard hitting, emotionally wrenching." Her second book, Saving Kabul Corner, was nominated for an Edgar Award. She is also the author of Ticket to India and Escape from Aleppo. Ms. Senzai lives in the San Francisco Bay Area with her family. Visit her online at NHSenzai.com.
Praise For Shooting Kabul (The Kabul Chronicles)…
"In N.H. Senzai's debut novel, worlds collide and a little sister is lost. Can her big brother find her from half a world away? At the same time, how can he find himself and restore his honor in a land that is both foreign and home? Turn the pages. Find out." —Kathi Appelt, author of The Underneath, a 2009 Newbery Honor book

"The hero of SHOOTING KABUL starts life in the United States as a foreigner, but by the end of the book, young readers will be cheering for Fadi as a good friend." —Mitali Perkins, author of Secret Keeper

"Senzai has brought a whole new world to life for young readers. It is a world they won't soon forget."—Reza Aslan, author of No god but God

"Senzai has captured a moment in recent history with enormous grace, skill and emotion. A powerful read." Ahmed Rashid, New York Times Bestselling author of Taliban

"an ambitious story with much to offer: a likable protagonist in Fadi, an original and engaging plot and a lens through which readers will learn much about the current conflict."—Kirkus

"Fadi's world is one of strong familial ties, Islam, and a vibrant, strong immigrant community. For all of Fadi's differences from his Fremont, California classmates, he will still seem very familiar to many middle schoolers. The novel allows readers a view of a different culture and provides background for events that still plague us today."--Steven Kral, VOYA, August 2010

"Bay Area writer N.H. Senzai, who based her first novel in part on her husband's family's escape from Soviet-controlled Afghanistan in 1979, has a warm, engaging style that belies the subject matter. She keeps the story firmly through Fade's eyes. He is a middle-schooler, plucky but not precocious, struggling to adjust to his new life in America, stricken by guilt about his sister, worried about his ailing mother, but still a boy."--Sandip Roy, San Francisco Chronicle, July 01 2010.