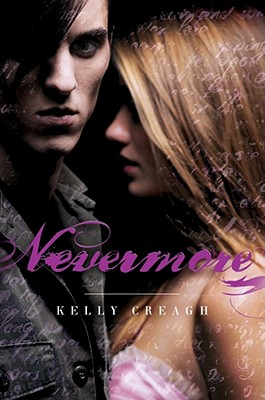 Nevermore
Hardcover

* Individual store prices may vary.
Other Editions of This Title:
Paperback (8/30/2011)
Description
And the raven, never flitting, still is sitting, still is sitting
On the pallid bust of Pallas just above my chamber door;
And his eyes have all the seeming of a demon's that is dreaming,
And the lamp-light o'er him streaming throws his shadow on the floor;
And my soul from out that shadow that lies floating on the floor
Shall be lifted - nevermore!
-- from "The Raven" by Edgar Allan Poe

Cheerleader Isobel Lanley is horrified when she is paired with Varen Nethers for an English project, which is due—so unfair—on the day of the rival game. Cold and aloof, sardonic and sharp-tongued, Varen makes it clear he'd rather not have anything to do with her either. But when Isobel discovers strange writing in his journal, she can't help but give this enigmatic boy with the piercing eyes another look.

Soon, Isobel finds herself making excuses to be with Varen. Steadily pulled away from her friends and her possessive boyfriend, Isobel ventures deeper and deeper into the dream world Varen has created through the pages of his notebook, a realm where the terrifying stories of Edgar Allan Poe come to life.

As her world begins to unravel around her, Isobel discovers that dreams, like words, hold more power than she ever imagined, and that the most frightening realities are those of the mind. Now she must find a way to reach Varen before he is consumed by the shadows of his own nightmares.

His life depends on it.
Praise For Nevermore…
"Tender, and engrossing, so richly textured and acutely rendered. . . . The chemistry between Varen and Isobel is positively simmering and as necessary as breathing. . . . Creagh totally "gets it", the whole painful and traumatic high school experience. . . . An unforgettable and graceful story." – FiendishlyBookish.com

"Verses from Poe's poems and synopses of his stories are woven seamlessly into the story, and the ghoulish spirit Pinfeathers is memorably menacing and gory. . . . a creepy, otherworldly climax." --Kirkus

"This Gothic Romeo/Juliet story is an English teacher's jewel box, with high appeal for readers who might ignore classic literature. Veiled and overt allusions to Poe, Shakespeare, and Frost will support discussion about love, loyalty, popularity, and independence beyond the trendy, dramatic, supernatural action." --VOYA

"Always one step ahead of the reader, Nevermore is a book to engage in, speculate over, and savor." –New York Journal of Books

" . . . I fell in love with Nevermore. . . . The chemistry is perfect and it simmers slowly throughout the novel at a beautiful, restrained pace. . . . Absolutely recommended." –TheBookSmugglers.com

"One of my favorite 2010 debuts. It has all the components of an amazing YA novel. A sympathetic, fun main character; a sexy, dark dude; a perfectly-paced plotline; a classic-inspired story arc; and a damn good love story!" –NaughtyBookKitties.com
Atheneum Books for Young Readers, 9781442402003, 560pp.
Publication Date: August 31, 2010
About the Author
Kelly Creagh is a 2008 graduate of Spalding University's MFA in Creative Writing program. When not writing, haunting bookstore coffee shops, or obsessively studying Poe, Kelly's passions include the ancient art of bellydance. She lives with her squirrely, attitude-infused dogs—Annabel, Jack, and Holly—in the heart of Old Louisville, Kentucky's largest and spookiest Victorian neighborhood. Kelly is the author of the Nevermore trilogy. Visit her at KellyCreagh.com.