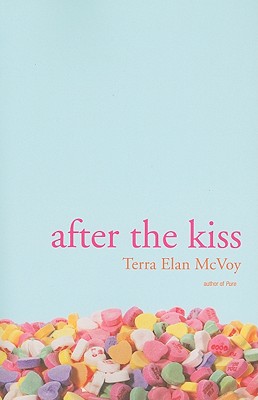 After the Kiss (Paperback)
Simon Pulse, 9781442402164, 416pp.
Publication Date: January 4, 2011
Other Editions of This Title:
Hardcover (5/4/2010)
* Individual store prices may vary.
Description
This moment changes everything.

Becca has been head-over-heels for Alec from the instant they met. He's a brainy jock with a poet's heart—in other words, perfect for her.

Camille is careful with her words and protective of her heart, especially since Chicago. Then a new boy in her new town catches her off guard with a surprise kiss.

Too bad that new boy is Becca's boyfriend, Alec.

Camille and Becca have never met, but their lives will unravel and intertwine in surprising ways as they deal with what happens after the kiss.
About the Author
Terra Elan McVoy has held a variety of jobs centered around reading and writing, from managing an independent children's bookstore, to teaching writing classes, and even answering fan mail for Captain Underpants. Terra lives and works in the same Atlanta neighborhood where her novels After the Kiss, Being Friends with Boys, and Pure are set. She is also the author of The Summer of Firsts and Lasts, Criminal (an Edgar Award nominee), and In Deep. To learn more, visit TerraElan.com and follow Terra on Twitter at @TerraMcVoy.
Praise For After the Kiss…
"The girls have distinct, believable voices [in After the Kiss]. A poignant tale of two girls on the brink of adulthood faced with real decisions about their future, who they want to be, and what role boys will play in their decisions." --School Library Journal



* "The poetry is richly allusive, with particular entries smartly and self-consciously modeled on poems by Pablo Neruda, Gertrude Stein, William Carlos Williams, and Wallace Stevens among others, and the imagery is often startling with an originality that exhales into a perfect aptness for the experience. This is more than simply a language-lover's edition of traditional chick-lit fare, however; the back-and-forth interplay of perspectives calibrates the delicate edge between the poignant yearning for intimacy and the psychic need for separation, as Becca grows beyond a need to hold on to a love truly lost, and Camille lets go of the fear that's driving her away from a love that might have a chance." --The Bulletin, starred review



"Vivid." --The Atlanta Journal-Constitution



"A love of language, literature, and the city of Atlanta, where [McVoy] lives, pervades her sophomore novel, a thoughtfully wrought coming-of-age story....McVoy's prose is confident and adventurous....A fresh, observant story."
--Publishers Weekly