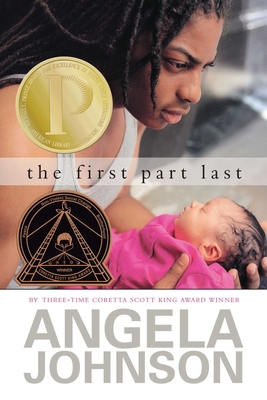 The First Part Last (Paperback)
Simon & Schuster Children's Publishing, 9781442403437, 131pp.
Publication Date: January 5, 2010
Description
This little thing with the perfect face and hands doing nothing but counting on me. And me wanting nothing else but to run crying into my own mom's room and have her do the whole thing.
It's not going to happen....
Bobby is your classic urban teenaged boy -- impulsive, eager, restless. On his sixteenth birthday he gets some news from his girlfriend, Nia, that changes his life forever. She's pregnant. Bobby's going to be a father. Suddenly things like school and house parties and hanging with friends no longer seem important as they're replaced by visits to Nia's obstetrician and a social worker who says that the only way for Nia and Bobby to lead a normal life is to put their baby up for adoption.
With powerful language and keen insight, Johnson looks at the male side of teen pregnancy as she delves into one young man's struggle to figure out what "the right thing" is and then to do it. No matter what the cost.
Praise For The First Part Last…
U.S. News and World Report Johnson has carved a niche writing realistically about young people's issues.


SLJ, starred review Brief, poetic, and absolutely riveting.


Publishers Weekly, starred review Readers will only clamor for more.


Booklist, starred review Poetry.
Advertisement