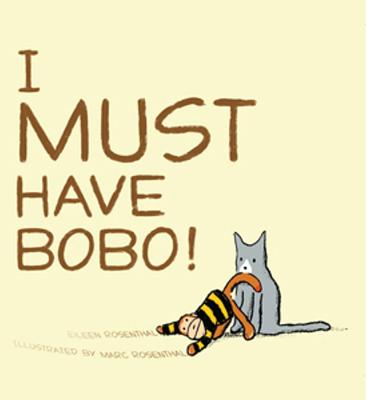 I Must Have Bobo!
Hardcover

* Individual store prices may vary.
Description
When Willy woke up there was trouble. Where was Bobo? Willy needs Bobo. But, Earl the cat likes Bobo, too. A favorite toy is hard to share…even when it's a sock monkey. With sparse text and a modern-nostalgic vibe, this retro-fun book about friends (sock monkeys) and frenemies (devious cats) is an ode to favorite toys everywhere. Oh, Earl! Leave Bobo alone.
Praise For I Must Have Bobo!…
Willy, the protagonist of this small domestic drama, is perfectly, appropriately self-absorbed, as he is barely out of toddlerhood and, as his monologue reveals, he relies on his sock monkey, Bobo, to help him negotiate the challenges of being so young. Bobo helps him, specifically, to confront dubious, possibly "bitey" bugs, go down the playground slide and walk past large dogs (friendly doggy smiles notwithstanding). Digitally colored and boldly lined pencil cartoons against cream-yellow background space put Willy and his feline housemate Earl (who has a marvelously blank, inscrutably entitled cat face) firmly in the forefront of the story. Earl likes Bobo, too! When Willy loses track of Bobo, his search grows anxious: Could Bobo have been stolen by pirates? Or…Earl? Small listeners may recognize themselves in the worn-out, napping boy, curled up with his arm around both Bobo and Earl—but some will also sympathize with Earl's relentless, devoted recapturing of Bobo (clearly a shared prize in this household). Hilarious for adult readers; an exercise in self-recognition and empathy for the intended audience. - KIRKUS, January 1, 2011, *STAR

I Must Have Bobo!
By Eilleen Rosenthal, illus. by Marc Rosenthal

In Eileen Rosenthal's first children's book, Willy, a small boy, and Earl, the family cat, battle over Bobo, Willy's treasured sock monkey, Earl is always sneaking off with Bobo, and illustrator Marc Rosenthal's (Phooey!) ability to capture Earl's feline deviousness--the way Earl cranes his neck to see if Willy is coming, or hides under the covers with Bobo--is one of the book's chief charms. Another is the contrast between the complicated things Willy pretends Bobo can do and the way Bobo hangs limply from Willy's arms, a passive participant in the boy's plans. "Bobo helps me with everything," Willy says; he bends over and prods a black bug with a stick. "Bobo, is that a bitey-bug?" he asks. But Bobo, under Willy's arm, simply wears that rigid stuffed animal expression every reader will recognize. In the end, Willy finds Early curled up in an armchair with Bobo and curls himself around them ("Here's my Bobo," he says contentedly); Earl's sideways glance shows that the story won't end there. Soft pencil drawings on cream-colored pages add to the generally calm, bedtime atmosphere. Ages 3-6.

--Publishers Weekly, December 13, 2010

Rosenthal, Eileen; illus. by Marc Rosenthal.
I Must Have Bobo!
Atheneum, 2011 32p
ISBN 978-1-4424-0377-2 $14.99 R 4-7 yrs

When Willy wakes up to find his beloved stuffed monkey, Bobo, missing, he begins to panic; after all, Bobo helps him with everything, from identifying dangerous bugs to going down the slide to walking past the yard with the big scary dog. It doesn't take Willy long to discover Bobo under the covers in the clutches of his pet cat Earl. As the day continues, Bobo keeps disappearing, and Willy keeps finding him with Earl, and Willy's frustration with his kitty grows exponentially. In the end, Willy, Earl and Bobo all curl up together in an oversized armchair . . . that is, until Willy falls asleep and Earl drags the monkey off once again. With telling detail, the story effectively establishes the importance of Bobo to Willy right from the start and lays out the pattern of Earl's penchant for stealing the toy. Vintage-inspired illustrations by Marc Rosenthal (Archie and the Pirates, BCCB 12/09) are penned in brown ink on pale yellow pages and colored digitally; only Willy, Bobo and Earl have any color, while all other compositional details remain outlines. Since Willy's a little overinclined to scowl his way through the proceedings, the sneaky Earl, who silently pads through the spreads, is the most visually engaging of the characters. Cat owners especially will therefore readily recognize Earl's tactics and understand Willy's immediate readiness to forgive his four-legged friend. HM

--Bulletin of the Center for Children's Books, February 2011

ROSENTHAL, Eileen. I Must Have Bobo! illus. by Marc Rosenthal. unpaged. CIP. S & S/Atheneum. 2011. RTE $14.99. ISBN 978-1-4424-0377-2. LC 2010004963.

PreS-K–"When Willy woke up, there was trouble." His favorite, do-everything-with sock monkey is missing. But Willy isn't the only one who thinks Bobo should always be by his side. Earl, a mischievous gray feline, waits in the background and snatches Bobo away at the most opportune moments. Kids who spend hours hunting for their favorite toy will relate to the boy's endless skirmishes with Earl. Willy's frustration, clearly decipherable from his facial expressions, is juxtaposed with the cat's impassive, innocent face, with the exception of a few over-the-top anthropomorphized expressions. Told in Willy's genuine preschool voice, the story also encompasses a hunt-and-find element, as readers can search for Bobo with Willy in the illustrations. Pencil drawings, digitally colored, are set against cream-colored pages, giving the tale a muted, calm feeling despite the infuriated laments of a foiled little boy. It is clear this battle will continue long after the story ends. An excellent choice for bedtime or storytime.–Richelle Roth, Boone County Public Library, KY

- School Library Journal, March 1, 2011

I Must Have Bobo!.
Rosenthal, Eileen (Author) , Rosenthal, Marc (Illustrator)
Feb 2011. 40 p. Atheneum, hardcover, $14.99. (9781442403772).

Knuffle Bunny, move over. There's another lost stuffie in town, although this one is not so much lost as
stolen. When Willy wakes up, he freaks out. Bobo is gone, and if there's one thing Willy needs, it's his
monkey, Bobo. After reciting the reasons why, he spots a monkey tail, and sure enough, there's Bobo
under his covers with Earl, the gray cat. Earl seems to need Bobo as much as Willy does, because
whenever the boy is the least bit distracted, Earl is grabbing Bobo's tail and dragging him off. Although
this is a one-joke story, it's told with such an honest grip on a child's world and emotions, and illustrated
so cleverly, that there's plenty of sustainability. Little ones will also enjoy finding Earl on the buff-colored pages. Willy, Earl, and Bobo are the only colorful spots in the art, but that doesn't mean it won't take
readers a bit of looking to find the gray cat, who has plenty of expressions—mad, surprised, sly—for such a simply drawn feline. This will resonate, and it's cute as all get-out.

--BOOKLIST, March 15, 2011

I Must Have Bobo!
Written by Eileen Rosenthal and illustrated by Marc Rosenthal

A sock monkey is the titular character in this tale of boy, cat and toy. Working with his wife, Eileen, who makes her picture book debut, Marc Rosenthal places hugely appealing retro-cartoon illustrations against a spare backdrop. As boy and cat tussle over Bobo, fundamental preschooler emotions—desire, fear, frustration, despair—will play for appreciative giggles.

--New York Times Book Review, March 13, 2011

"A melodramatic boy, Willy, and a cat, Earl, both lay claim to a sock monkey. With adorable illustrations and sharp but spare text."

--New York Times Book Review (a Notable Children's Book of 2011)
Atheneum Books for Young Readers, 9781442403772, 40pp.
Publication Date: January 25, 2011
About the Author
Eileen Rosenthal and her husband, Marc Rosenthal, enjoy working together (and even sharing)—unlike Willy and Earl. I Must Have Bobo! was their first collaborative project and Eileen's picture book debut. Marc is also the illustrator of Alison McGhee's Making a Friend. Eileen and Marc live with their family in the Berkshires.

Marc Rosenthal is the New York Times bestselling illustrator of many books for children, including Small Walt by Elizabeth Verdick; the Bobo series by Eileen Rosenthal; The Straight Line Wonder by Mem Fox; and Phooey!, which he wrote. Marc's illustrations can be seen regularly in The New Yorker, Time, Forbes, Fortune, The Atlantic, The New York Times, The Boston Globe, The Washington Post, and others. Visit him online at Marc-Rosenthal.com.